Updated story
Following a Sunday that brought a strange mix of freezing rain and thundersnow -- OK, thundersleet -- to the Chicago area, the city hit a record high temperature Tuesday.
A high of 62 degrees was forecast for Tuesday, and the weather delivered early on its promise: Just before sunrise, at 6:50 a.m., the previous record high for the day -- 59 degrees, set in 1914 -- was already surpassed at O'Hare International Airport.
Great, right? A midwinter springtime! Break out the shorts! Not exactly. Heavy rain, possible hail and yes, more thunderstorms are also in Tuesday's forecast, according to the Chicago Tribune.
By Wednesday, temperatures in the Chicago area are again expected to plunge back into the 30s and lower thanks to a fresh round of arctic air arriving and bringing with it a chance of snow Wednesday, flurries Thursday and additional light snow by Saturday, the Chicago Weather Center reports. All told, just more than an inch of snow is expected to fall by Saturday.
Here's the somewhat baffling sight Chicagoans encountered on Weather.com's five-day forecast Monday: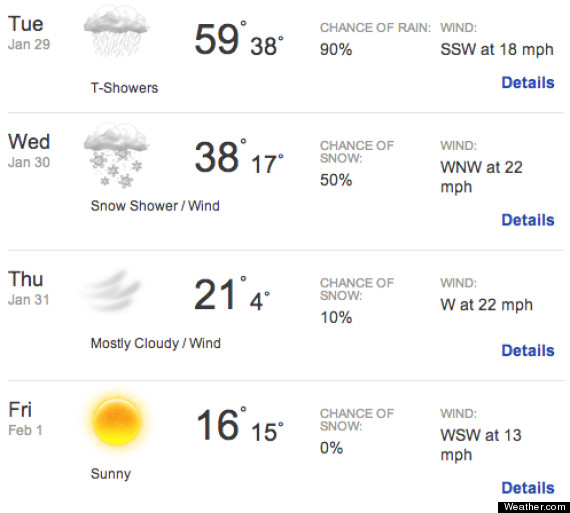 Just last week, Chicago was in the grips of a bitter blast of arctic air that was the coldest the city had seen in two years.
BEFORE YOU GO
PHOTO GALLERY
Snow In Chicago