David Arquette gave Adam Lambert a very special gift for his 31st birthday: a striptease and a lap dance.
While partying at Bootsy Bellows in West Hollywood on Friday, Arquette stripped down to his underwear and gave Lambert a lap dance while the singer celebrated with friends, according to the Advocate.
SCROLL FOR PHOTO
Maybe it was all just part of Arquette's hosting duties.
The 41-year-old is a co-owner of Bootsy Bellows, a Rat Pack-esque nightclub he opened during the summer. The hotspot has attracted the likes of Katy Perry, Lindsay Lohan and Robert Pattinson, notes The Hollywood Reporter.
And the "Trespassing" singer may be yet another fan.
In a photo of the sexy celebration, shared by Actor Collin Owens, Lambert seems to get a kick out of Arquette's surprise, laughing as the actor dances alongside the venue's other performers.
Lambert, who turns 31 on Jan. 29, isn't only using his birthday as an excuse for fun and games. The singer's special day will also raise money for the We Are Family foundation, an organization that promotes respect, understanding and cultural diversity.
Lambert is encouraging fans to donate $31 to We Are Family, according to The Hollywood Reporter, in exchange for the chance to send the singer a self-recorded, 10-second greeting.
As of Sunday night, donations had already surpassed $16,000.
Check out a photo from Lambert's birthday celebration below.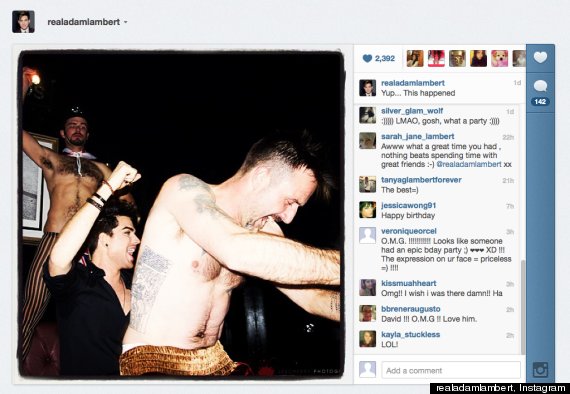 BEFORE YOU GO