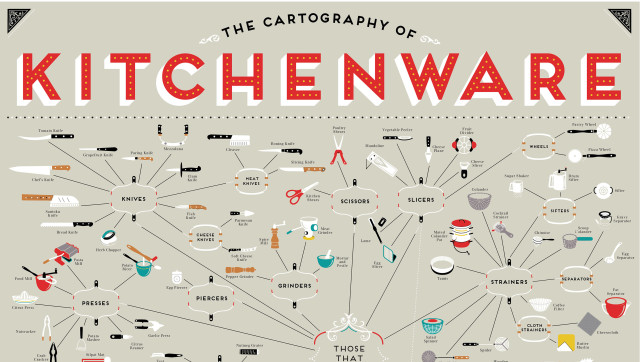 We all know by now that there are way too many kitchen gadgets on the market. With 14 different kinds of slicers to cut fruit, there's really no question about it. But, there are a fair amount of kitchen tools we couldn't live without -- like the box grater for one -- and sometimes it's hard to keep track of them all. That's where The Cartography of Kitchenware poster infographic comes into play.
The Cartography of Kitchenware maps out which category all of our different kitchen tools belong to, and it does so in a very aesthetically pleasing way. If you need help remembering what exactly your tandoor is for, this map has your back. Or, if you're looking for fun art to dress up your kitchen walls, this poster is great for that too. Brought to us by the good folks at Pop Chart Lab, the 24" x 36" poster is on sale for just $26.
If that sounds like more than you want to spend, enter our giveaway for a free poster delivered right to your door (provided that you live in the continental US or Canada). Just tell us in the comments below what your most beloved kitchen tool is and why. Giveaway ends at 5pm EST on Tuesday, January 29.
Want to read more from HuffPost Taste? Follow us on Twitter, Facebook, Pinterest and Tumblr.
BEFORE YOU GO