A young woman trapped inside the deadly Brazilian nightclub blaze this weekend posted one final message to Facebook, pleading for help as the building burned.
As Gawker notes, Michele Cardoso, a 20-year-old medical student, was at Boate Kiss on Sunday with her sister and her boyfriend, João Paulo Pozzobon.
About 50 minutes after the fire began, Cardoso was able to access Facebook one last time.
"Fire at KISS help," she posted to the site.
All three patrons died in the blaze, according to Gawker. Pozzobon's Facebook page still shows his Foursquare check-in at Boate Kiss. Below the post, one user wrote: "The last check-in."
One of Cardoso's friends told Brazil Extra that she had always been a very cheerful person.
More than 230 people were killed in the crowded Santa Maria club after pyrotechnics ignited the soundproof foam.
"Large amounts of toxic smoke quickly filled the room, and I would say that at least 90 percent of the victims died of asphyxiation," Dr. Paulo Afonso Beltrame, a professor at the nearby medical school, told the Associated Press.
At least three people have been arrested in connection with the blaze, including the club's co-owner.
PHOTO of Michele Cardoso's Facebook post: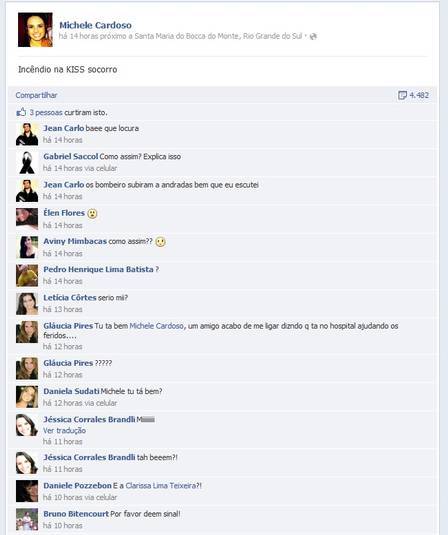 BEFORE YOU GO
PHOTO GALLERY
Brazil Nightclub Fire