A mural depicting President Obama was vandalized once again, the Houston Chronicle reported on Monday.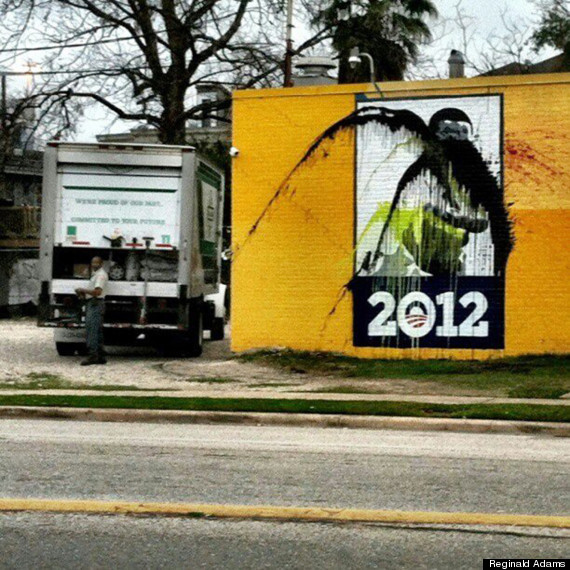 Located in Houston's Midtown neighborhood, the mural is on a building that the Democratic Party used as headquarters during the presidential campaign. The Chronicle reports:
Splashes of black and red paint mar the 10-foot image of the 44th president in the 3700 block of Travis near West Alabama. The mural had been restored in October after vandals had defaced it with splashes of paint. That previous vandalism was also discovered on a Monday.

"It's bad," said Jose Fermin, as he stared at the ruined painting early Monday morning. Fermin works across the street at the Breakfast Klub, a popular eatery which uses part of the building for storage. He said he supports Barack Obama because he is the country's president. It's unclear when the mural was damaged.
The mural was originally painted by artist Reginald C. Adams in 2008 to mark the presidential campaign. After the attack last year, Adams initiated a revival of the mural during the presidential debates.
The recent defacements of the mural remain a mystery to visitors of Houston.
"We hope this is not indicative of what Houston is all about," Chuck Vivian, a visitor told The Houston Chronicle
Adams primed the wall to prepare "a bigger and better image" which the artist plans to paint within the next few days.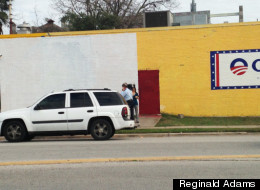 Click over to the Houston Chronicle for more on the vandalism.
BEFORE YOU GO
PHOTO GALLERY
Unveiling The Bush Portraits