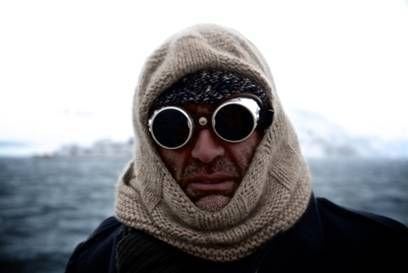 Five days ago, adventurer Tim Jarvis set off from Elephant Island, an icy chunk of Antarctica's South Shetlands archipelago, in a 22.5-foot replica of Ernest Shackleton's famed lifeboat the James Caird. Surrounded by swells and stinging winds, Jarvis began a journey retracing the trip that carried the great Antarctic explorer and a small party from the ice floe where he had been stranded along with his crew and the good ship Endurance to safety. This modern expedition would be no such thing: All the equipment aboard the new ship Alexandra Shackleton -- with the exception of mandatory communication technologies -- would have been available in 1914.
Now under sail, Jarvis plans to land on South Georgia Island then hike over its mountainous exterior. This grand scramble is how Shackleton's men found a whaling station and rescue -- not only for themselves but for their still-stranded shipmates.
Shackleton's journey in the James Caird has long been celebrated as one of the great achievements of any sailor and as an example of true courage. The decision to reenact such a harrowing expedition could thus be interpreted as both eccentric and risky, two words always associated with Jarvis himself. An Australian adventurer previously known for his unsupported trips in Antarctica and for tracing the journey of Douglas Mawson in order to determine whether the explorer had to resort to cannibalism to survive his 1909 Antarctic expedition, Jarvis tends to do things the hard way. The virtue of this approach is that he can intimately understand what long dead explorers went through and the landscapes they conquered. The vice is, quite simply, that he spends a lot of time being very cold.
In this era of major cruise lines, the crew of the Alexandra Shackleton will be suffering in the shadow of major luxury cruise liners.
The 800-mile sail from Elephant Island took Shackleton 14 days and might be accomplished faster this time around if conditions don't deteriorate. Unfortunately for Jarvis and his crew, conditions in the Southern Ocean have the very bad habit of deteriorating.
HuffPost Travel submitted the following questions to Jarvis through the team aboard the support vessel Australis. Jarvis shouted his answers into an increasingly waterlogged radio as he beat a path north through the waves.
HuffPost Travel: What did you think when you were first approached about recreating Shackleton's Voyage and what do you think about it now that you're underway?
Tim Jarvis: It was Shackleton's granddaughter, Alexandra Shackleton, who approached me to see if I would be interested in recreating her grandfather's epic journey. She was aware that I'd re-enacted [Douglas] Mawson's journey back in 2006 and requested that I attempt Shackleton's in the same manner -- by wearing period era gear, using celestial navigation and following the same starvation diet. I have long admired Shackleton and the history of polar exploration, so was very flattered she entrusted me to retell Shackleton's story.

Now that we're underway, I have mixed feelings. We're toughing it out in very rough, uncomfortable conditions, so the temptation to question why I'm doing this is there -- you'd be mad not to have doubts!
HPT: You are taking the sort of risks associated with exploration, but not covering new ground. Why is this sort of expedition worth it?
TJ: As a big Shackleton fan, the chance to recreate one of the greatest survival stories in the world is a real privilege. It's been nearly 100 years since his story played out, so the timing is perfect to revisit his journey. While not a new one, we are the first to attempt the journey in this way by foregoing Gore–Tex in favor of traditional gear, following the same diet of pemmican [lard] that Shackleton and his men did, and using celestial navigation -- sextant, compass and the stars -- to navigate. We're also using a replica boat, built as an exact double of Shackleton's boat, the James Caird. So in some ways this journey is covering new ground in that no one has attempted it in this way since Shackleton did almost 100 years ago.
HPT: What can you learn about Antarctica or appreciate about the place traveling as you are rather than on a larger ship or in a plane?
TJ: Cruise ships are restricted by their size in that they can't access narrow channels or anchor at isolated places. Because of the nature of cruising, you typically are locked into a schedule. Traveling in Antarctica in such a small party gives us more freedom and flexibility to go where others can't. Regardless, I feel visiting Antarctica in any form is an incredible experience and one you'll never forget.
Mind you, we're more focussed on survival at the moment than sight-seeing. But we have seen incredible wildlife out here. Cape petrels and humpback whales have been travelling alongside our little boat.

HPT: What do you see as the biggest obstacle you're likely to face?
TJ: Currently the biggest challenges are being presented by the sheer lack of space that we have down below deck. It's terribly difficult to do anything with so many bodies packed into such a confined space. This is affecting our ability to cook on the Primus stove, eat, sleep, rest or do anything really. Apart from being frustrating, this will soon have a flow on effect as we need to eat and rest as much as possible in order to complete the mountaineering side of things once we hit South Georgia Island. We're also being battered currently by 30-plus knot winds and five-meter seas.
It's rough and cold out here.
HPT: Please describe your view...
TJ: A never-ending wall of waves! We are completely surrounded by the unrelenting sea. Currently we're experiencing swell upon swell, which makes for a very rocky, uncomfortable journey. Regardless, there are still moments of beauty to admire -– whales breaching only seven meters from our boat and flocks of birds following us playfully. It's a remarkable sight.
Photos Courtesy Of Shackleton Epic
BEFORE YOU GO
PHOTO GALLERY
A Good Old-Fashioned Antarctic Expedition