The Magician of the Century's puppy was pilfered -- and he's begging for someone to make it reappear.
Criss Angel is offering $5,000 for the safe return of his dog, which was one of four dogs stolen from a Las Vegas pet shop, the Las Vegas Sun reports. He boarded his pooch there while vacationing.
On Sunday, two thieves broke through the gates (video below) at the Prince and Princess Puppies & Boutique shop at about 11:45 p.m., and stole the doggies. Then, they allegedly hit up another pet shop nearby and lifted several exotic birds, according to a Metro Police press release.
Angel had bought a teacup Yorkshire terrier to console himself over the recent death of his puppy Dini (pictured).
"We have to find these puppies. We have to catch these people. This could be devastating," he said, according to the Las Vegas Sun.
He also tweeted the number for Metro Police (702-828-3573) in a bid to get fans in on the investigation:
Thanx all for your kind thoughts about the @adorablepups IF U KNOW SOMETHING CALL LV Metro Police 702 828-3573 lets catch these losers RT

— Criss Angel (@CrissAngel) January 29, 2013
Besides Angel's black Yorkshire terrier, the dognappers absconded with two white French bulldogs and a gray Schnauzer.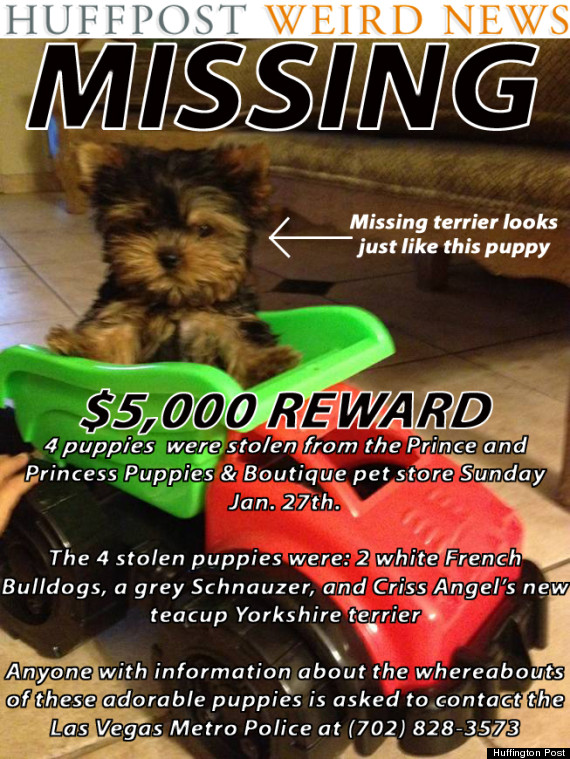 BEFORE YOU GO
PHOTO GALLERY
Animals In The News