If you are one of the growing number of women who have been embracing, nuturing and loving their natural hair, then you most likely know and love Nikki Walton, aka Curly Nikki.
The Pennsylvania-based natural hair blogger has earned a large and loyal following via her website CurlyNikki.com by offering thoughtful daily doses of information on achieving a healthy natural mane. Whether you need pointers on maintenance basics, product recommendations, countless hairstyle inspirations, video tutorials and interviews with curly-coiffed celebrities, Walton has you covered. She even has a mobile app!
With that said, it's no surprise that many refer to her as the "Curl Whisperer." Walton has spent the better part of four years helping women transition from their chemically treated hair and offering sage advice to those who are already curl converts. Now the 29-year-old has gathered the best of that info into a book entitled Better than Good Hair: The Curly Girl Guide To Healthy, Gorgeous Natural Hair!
COVER PHOTO: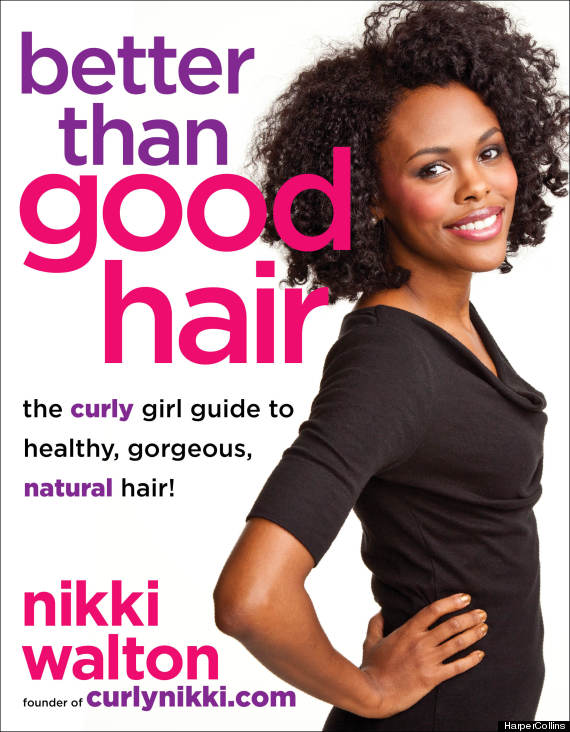 The book, published by the Amistad division of Harper Collins, features a forward by actress Kim Wayans and includes chapters like "The Big Chop: Mama, Friends and Significant Others (How to Transition Without Losing Your Mind)" and "The Terrible Twos: Standing by Your Hair -- Even When It's Acting A Fool" --making for a funny and informative read.
We especially love the sections on how to maintain gorgeous hair while exercising (since that's proving to present some major health risks) and accessorizing around a TWA (teeny weeny afro).
"It's not a political manifesto. There's no anti-relaxer or anti-straight hair rhetoric," Walton told The Huffington Post. "There's no judgement, no harsh stances. This book meets you where you are and offers ways to achieve healthy hair."
The natural hair movement shows no signs of slowing, with several beauty companies launching lines specifically for curly haired customers and natural hair vloggers filling up YouTube.
"Natural hair is not a fleeting trend. It's here to stay because it's more than a hair style, it's a lifestyle," Walton said. "Natural hair is changing the face of Black American women."
Walton's Better than Good Hair: The Curly Girl Guide To Healthy, Gorgeous Natural Hair! hits shelves and the internet today.

BEFORE YOU GO
PHOTO GALLERY
The Year In Natural Hair