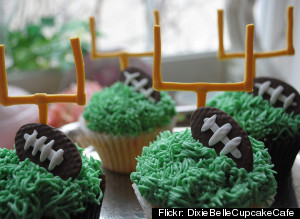 As the Baltimore Ravens prepare to face the San Francisco 49ers in Super Bowl XLVII, our attention turns predictably to the menu. We are here for the game day snacks, people. And today, we want to know what you think the ultimate Super Bowl food is.
In last year's Super Bowl Snacks Bracket Challenge, you guys voted chicken wings as the Super Bowl food you most want to consume rapidly in front of a football game. Will chicken wings hold their ground against this year's competitors? Is there a dark horse waiting to steal the day? Obviously, this is the kind of football matchup we really get excited for. We know everyone's Super Bowl food traditions are different, but we tried to pick the classics that end up on everyone's table come kick-off. If we missed your favorite, tell us what it is in the comments!
Here's how the Super Bowl Food Deathmatch voting will go down:
Round One voting opens today (January 29) -- vote right now!
Wednesday, January 30 at 12:00am Eastern, Round Two begins.
Thursday, January 31 at 12:00am Eastern, you'll be able to vote in Round Three.
Friday morning, February 1, we'll announce your pick for best ever Super Bowl snack.
BEFORE YOU GO
PHOTO GALLERY
Awesome Game Day Snacks