"30 Rock" hits the end of its seven-season run Thursday, but fortunately fans can still catch Tracy Morgan on his upcoming "Excuse My French" tour. And this Sunday, Super Bowl viewers will be treated to an appearance by the outspoken comedian when he debuts a commercial for MiO Fit sports drinks. We caught up with Morgan to discuss his "uncomfortable" brand of standup, why sharks make great pets and the national crisis that concerns him most.
Why did you want to partner with MiO Fit?
First of all, I love the taste. I tried it before I did the commercial, because I didn't want to be involved in something I didn't believe in. It's sugar-free, it has electrolytes in it. So those who need that in their body, you could drink a lot of water but this has taste and that's awesome to me.
Are there additional flavors of the drink you'd like to create?
Chocolate, vanilla, raspberry, everything. I want to be like Willy Wonka.
Tell me a little about the Super Bowl commercial.
The commercial is me changing the world with a sports drink. It's funny, it's really edgy. But we don't cross the line. And it's all me.
In one teaser for the ad, you ask if you can drop the F-bomb. Do you think more cursing should be allowed on TV?
Freedom of speech, baby! Freedom of speech, why not? It's just another language. That's just my personal opinion. I don't want to force that on the world. If you're asking a standup comedian, sure, I would love to do that. I think that it's just another form of language.
What are your Super Bowl plans?
I want to sit back with my lady [Megan Wollover] and enjoy the game.
Which team are you rooting for?
My team is the New York Giants, to make that clear. But if I have to root for someone, I believe I'm going to sway the side of the Ravens, because I love Ray Lewis.
Are you excited for Beyonce's performance during the halftime show?
You've got to understand, baby, I'm a 44-year-old black man. My lady's excited for that, but I'd rather see Prince. I'd rather see Rakim or somebody. As a dude, I'd rather see Jay-Z. I'm more into Biggie Smalls. I'm more into Kurt Cobain. I'd rather see Tupac. The ladies prefer Beyonce. She's a sweet person.
The "30 Rock" series finale airs Thursday. Where will your character, Tracy Jordan, be a year after "TGS" goes off the air?
I couldn't answer that. What would I want to be doing? Directing, writing a movie. I'm on tour now, doing a 50-city tour. Maybe another film or two, averaging two a year. And more television.
Ice-T and Nancy Pelosi both guest-star on the finale episode. What was it like having them on?
Me and Ice-T go way back, so we're friends. And Nancy, she's a delightful person and it's going to be funny. Having those guys on the set, it was incredible. We love all the special guests that ever came on, all seven seasons, we really love and appreciate them taking the time out of their day to join us on our TV show.
I read that your home harbors a menagerie of exotic animals. Is that true?
I don't have any more exotic pets in my house. I just have my fish tank and I love my fish. Other than that, I donated most of my animals to zoos and sanctuaries. I just thought it would be a better place for them, being that I'm on the road and I'm so busy. They need special attention and care, and I just didn't think it would be fair. But I do love my sharks, the few that I have, and my son's shark tank. I gave it to him; it's a 20-foot-long shark tank. It's fun to just sit in my basement and watch it. It's a different world.
Have your pets ever pulled any shenanigans, a la the identity-stealing parrot on your "Brian Fellows" "SNL" skit?
No. But if I could have a bird, I'd like to have a bald eagle. Represents America.
Your "Excuse My French" tour kicks off in March. Is anything off-limits in your act these days?
I don't think so. I think as long as it's in the spirit of comedy, it's funny. What's off-limits in my act is it not being funny. That's the only thing that's off-limits in my act. If it's in the spirit of funny, we talk about everything, baby.
Like, what?
Sex, politics, my life, my experiences, the pink elephant in the room. I love to dwell in places where people are most uncomfortable. People are most uncomfortable with sex. So that's where I like to dwell. Why do you think most guys aren't good at it? We don't get enough practice, ladies, being so stingy with it. We need to get this world back to making love instead of fighting wars. I'd rather see babies being born than being put in a coffin.
You recently tweeted that Honey Boo Boo is not your daughter. Are you a fan of reality TV?
When I watch TV, I have to get something out of it. I like "Animal Planet" and "Tanked." And I love to watch sports. I love to watch documentaries -- Jacques Cousteau and those type of things. I'm very particular about what I watch on TV.
In January, you told David Letterman that you solved the fiscal cliff crisis. What other national problems would you like to help solve?
I'm trying to solve the problem of men not getting sex. That's a crisis in America.
What can be done about that?
You tell me!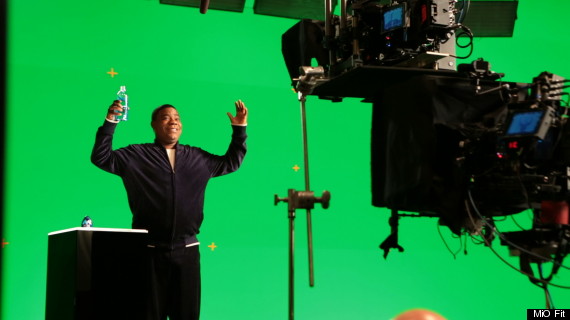 BEFORE YOU GO