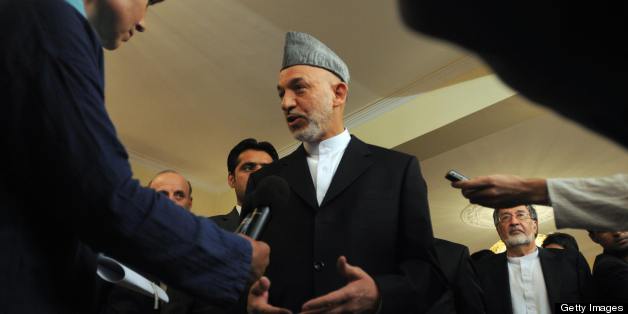 Danish Karokhel, like all Afghan journalists, couldn't report freely during Taliban rule in the 1990s. The Islamic fundamentalist regime allowed only a single, state-run outlet, Radio Sharia, on the air. And with music banned and an independent press nonexistent, the broadcasts were essentially propaganda.
Then came the bombs, followed by the boom.
Since U.S.-led forces toppled the Taliban government in the months after the Sept. 11, 2001 attacks, U.S. government agencies and international aid organizations have poured hundreds of millions of dollars into building up the Afghan media industry. That sector now boasts over 75 television stations, 175 FM radio stations, hundreds of print publications –- including more than a dozen daily newspapers -– and several news agencies. "Around 10,000 journalists are working in those media outlets," Karokhel said, "which is a big achievement."
Karokhel, 36, is one of those thousands of journalists currently working in Afghanistan, having returned from a daily newspaper in Peshawar, a city in northwest Pakistan, after war broke out in the fall of 2001. He covered the bombing of Kabul for NBC, later working with the Institute for War and Peace Reporting. In 2004, Karokhel helped launch Pajhwok Afghan News, now Afghanistan's largest independent news agency, with financial backing from the U.S. Agency for International Development (USAID). Pajhwok publishes articles in Pashto, Dari and English, and produces photos and videos that may be licensed by wire services and television stations.
There's a clear reason for governments and aid organizations to support Afghan media: a burgeoning democratic country not only deserves, but needs, a functioning and free press. Given that U.S. officials have long spoken of needing to win "hearts and minds" amid warfare, funding for media outlets -- offering not just news, but entertainment and music options -- is one way to try doing so.
By supporting Afghan media, the U.S. also helps ensure that its policy positions aren't missing from coverage of and debate over the war and continued presence of troops in the country. The U.S. has funded foreign media before, most notably in broadcasting Radio Free Europe and Radio Liberty into Soviet-occupied countries during the Cold War.
Because there isn't a thriving advertising market or potentially large subscriber base in Afghanistan, news outlets have often relied on foreign aid for support. But as coalition forces prepare to withdraw troops in 2014, Afghan journalists are concerned that international funding could also dry up, potentially reversing the upward trajectory of their industry since the Taliban was toppled.
"Just a decade ago, there were no independent media in Afghanistan," a USAID spokesman said in a statement to The Huffington Post. "In recognition of the essential role that independent media and information play in a free and democratic society, USAID and the Department of State have provided $166 million to support media development in Afghanistan."
Since 2002, USAID and the State Department have supported numerous media projects in Afghanistan, such as the Salam Watandar radio network, which includes 53 independent FM radio stations, and Tolo TV and Arman FM, the most popular TV and radio stations. They've supported initiatives to expand cellular, TV and radio accessibility, according to a spokesman, along with establishing Nai Supporting Open Media, an organization that's trained over 15,000 media professionals and promotes media advocacy.
It's not only the U.S. government funding the media in Afghanistan; international aid organizations and NGOs from other countries have also supported news outlets, radio and TV stations there. A 2012 BBC Media Action report described the role of donors in supporting media in Afghanistan as "probably greater than in any other country at any time."
Due to the Afghan government's reputation for corruption, there are understandable fears that international aid won't reach the intended recipient. Yet in Pajhwok's case, donations haven't gone missing. The news agency is widely regarded as a journalistic success, with the Committee to Protect Journalists honoring Karokhel and Farida Nekzad, a former managing editor, in 2008 for their work in "one of the world's most dangerous countries for the press."
Nekzad, who left Pajhwok in 2009 to become director and editor-in-chief of the Wakht News Agency, said in an email that the situation for journalists gets "worse day by day," with censorship, threats, and even killing. She wrote that journalists started with a "big hope for the good and better future , but unfortunately since 2005, [it's] getting worse." Nekzad, who is president of an organization for South Asian female journalists, also noted that despite some progress, women still don't have the same opportunities as men in Afghanistan, who are more likely to be managers of most media organizations there.
Although journalists have more opportunities to write and speak as they see fit than during the Taliban days, the country still ranked 150th out of 179 countries last year on Reporter Without Borders' press freedom index. Journalists face intimidation from government bureaucrats and military officials or may choose to self-censor to avoid retribution.
There is also continued violence against journalists, according to Nai's annual media watch report, which counted 69 cases in 2012. Two reporters were killed, while others were injured, detained, beaten, insulted and threatened, according to the report.
Pajhwok hasn't been immune from the dangers facing journalists in Afghanistan. Three Pajhwok journalists have been killed in the news agency's nine-year existence, including Ahmad Omaid Khpalwak, a 25-year-old reporter mistakenly shot by an American soldier responding to a series of insurgent suicide attacks in July 2011. Still, the Kabul-based Pajhwok grew to eight regional bureaus and over 100 employees, before beginning to scale back in 2012 following a funding deficit. Karokhel estimated that about 500 to 700 journalists lost their jobs nationwide last year.
If 2012 was bad, several Afghan journalists told The Huffington Post they expect the coming years to be even worse -- especially if international donors follow coalition forces out of the country in 2014, a crucial year that will also feature a presidential election and the chance to see whether Afghanistan's own military can successfully fight Taliban and insurgent fighters.
LOOKING BLEAK
As he discussed Pajhwok's future, Karokhel spoke optimistically about the possibility of generating revenue through advertising and subscriptions in order for the organization to become more self-sustaining. For the immediate future, that seems like wishful thinking.
Like other print-focused news outlets, Pajhwok faces an uphill battle, given still-widespread illiteracy in Afghanistan and low Internet penetration. Only three percent of Afghans have Internet access, according to Gallup, making it unlikely that someone could fund and run a news agency using online advertising. (The Afghan government recently pushed back on that study).
Bob Dietz, coordinator for the Committee to Project Journalists' Asia Program, and a booster of Pajhwok's journalism for several years, acknowledges the financial obstacles ahead. In a chapter from CPJ's forthcoming book, "Attacks on The Press," Dietz wrote about visiting Pajhwok in September and seeing that "the agency had fallen on hard times, its staff was hollowed out, many of its reporters across the country unpaid for several months."
In an interview, Dietz described Pajhwok as a "terrific project," while noting that the Afghan outlet -- along with others -– has to try to "figure out ways to survive."
Pajhwok currently receives support through USAID and the U.S. Embassy's Public Diplomacy program. A USAID spokesman said the agency is "providing technical assistance" in "the areas of management and business development in order to ensure that it will be financially sustainable in the long term." The State Department "provided a grant to meet operational needs in transition, while encouraging Pajhwok to adjust its business model to better meet the market's financial realities, focusing on products, demand and pricing," according to the spokesman.
USAID and the State Department will also continue funding the Salam Watandar radio network, which a spokesman said is "poised to retain a strong presence in the Afghan independent radio sector beyond 2014."
The situation for many news outlets, however, looks bleak, and one already closed its doors. The Kabul Weekly, which launched in 2002 and drew praise for its independent streak, folded in 2011 as a result of financial pressures following its critical coverage of Afghan President Hamid Karzai. The paper quickly lost ads sponsored by the government and prominent businesses. The Guardian reported at the time that editor Mohammad Faheem Dashty was convinced "he had no choice but to shut down after more than a year of losses in a media market where most publications are simply bankrolled by warlords."
It's not only warlords who fund publications to promote their viewpoints. Afghan journalists say Iran and Pakistan are looking for opportunities to fund news outlets in Afghanistan, presumably to put their own spin on the news, which some argue the U.S. is doing through its funding.
Karokhel said he's turned down Iranian offers to provide financial support, but is "worried some of the media outlets will accept that kind of offering." Nekzad, too expressed concerns about the potential "misuse of the media by some warlord, political parties, even neighbor countries" if current donors -- namely the U.S. -- decrease funding.

Parwiz Kawa, the 36-year-old editor-in-chief of the daily newspaper Hasht-e Subh, which translates as "8 A.M." in English, also suggested to The Huffington Post that money-losing Afghan news outlets may increasingly look to neighboring countries like Iran and Pakistan for help.
Hasht-e Subh was launched in 2007 with support from the Afghanistan Human Rights Commission, which Kawa said sponsors a page of each issue. A German NGO sponsors another, he said. The 15,000-circulation newspaper has also received support from the National Endowment for Democracy since 2009.
Last month, Reporters Without Borders awarded its 2012 Press Freedom prize to Hasht-e Subh, describing the newspaper as "living evidence that freely-reported quality journalism can develop in the most difficult corners of the planet."
However, despite journalistic success in Afghanistan and recognition abroad, Hasht-e Subh has been forced to reduce its staff from a high of 150 employees in 2011 to around 100 today.
Kawa also expects outside funding to news outlets to decrease in 2014, which, he said, "would be a loss for the freedom of speech and freedom of the press in Afghanistan."
A SUCCESS STORY
While print outlets struggle to find a workable business model post-2014, television channels and radio stations may have a better chance of survival. There is more advertising money in TV and radio and those mediums aren't negatively affected by high levels of illiteracy and lack of widespread Internet access.
One of Afghanistan media's biggest success stories in recent years has been on the broadcast side. In 2010, The New Yorker described Saad Mohseni, chairman of The Moby Group, as "Afghanistan's first media mogul." In addition to Afghan TV and radio holdings, Moby owns a record company, ad agency and production company, and it partnered with News Corp. on the Farsi 1 satellite network beamed into Iran.
The Mohseni family, which operated businesses in Australia before the war, received $2.7 million in USAID grants to help launch their diversified media company. The company has claimed it takes in annual revenues of over $20 million, according to The New Yorker profile. In the launch of Arman FM and Tolo TV, USAID was the "biggest contributor" outside of the family, The New Yorker reported.
"Funding from organizations like USAID was crucial to our decision to invest in Afghanistan," Zaid Mohseni, a director of Moby Group, said in an email to The Huffington Post. "We certainly had the will to do it, but the funding allowed the project to be feasible commercially. Without the USAID funding, we would never have made those initial investments in the media sector."
Mohseni said that his family was told when they first received USAID funding "we should not expect further funding for that project and so we made sure that we made the business sustainable." He noted that his brothers Saad and Jahid and sister Wajma all gained significant business experience in Australia before starting their company in Afghanistan.
"We also invested everything we had into the business," Mohseni said. "All property assets and savings were liquidated to invest in our Afghan business. So we had no choice but to succeed."
The Moby Group, which in 2010 launched Tolo News, the country's only 24-hour satellite news channel, also owns channels focused primarily on entertainment, offering shows like "Afghan Star," a version of "American Idol." While the entertainment operation may be able to subsidize Tolo News to an extent, the news side did lay off some staff in the past year due to restructuring.
"It is difficult to say if a news channel is sustainable on its own in Afghanistan," Mohseni said. "It may still take some time for the market to grow to be able to support such channels in the future without assistance from other profitable divisions or outside assistance."
OUR JOBS AS JOURNALISTS
Sami Mahdi, director of news and current affairs at the network 1TV, has similar concerns about the future of Afghan media beyond 2014, but he's also quick to point out how far journalists have come over the past decade.
"I think the media is doing a very good job in Afghanistan," Mahdi said, by phone from Kabul. "You cannot compare it with our past. During the Taliban or, before that, during the Soviet presence in Afghanistan, or even during the king, we didn't have an environment for our media and free expression."
"The media environment in Afghanistan is much better than if you compare it with the neighboring countries of the region," Mahdi added. "You cannot find this in Central Asia, not in Iran, not in China, not in Pakistan. I think the situation is very good."
In December, the International Center for Journalists presented Mahdi with its Knight International Journalism Award for having "revolutionized Afghanistan's media landscape."
"In a country where the Taliban once starved people of information, Mahdi is one of the most reliable sources of news," the organization stated. "More than that, he has engaged Afghans in a way no other newscaster has."
Mahdi, whose career began at Tolo TV in 2007, has created innovative programing in Afghanistan tackling taboo subjects, like rape and domestic abuse. He launched the show "Niqab" (Mask), which allowed Afghan woman to wear masks while discussing the violence inflicted upon them before a live audience.
Currently, Mahdi hosts the public affairs show "Kabul Debate Live" before a live TV audience and allows mobile users –- a growing segment of the population –- to engage with the program by voting on issues via text message. The show, which has featured interviews with prominent business and political leaders, also continues to generate controversy, a testament to the more open press that's developed and matured over the past decade.
"We are getting messages, letters from different groups, asking us to stop specific programming," Mahdi said. "Four or five months ago, we got a letter from an insurgent group asking us to not put on the air news against them. We were not putting anything against anyone. We are doing our jobs as journalists."
This article is the first installment in "Dangerous Datelines," a Huffington Post series on journalists working in difficult situations around the world.
WATCH: 2011 CNN report on "Niqab," featuring Sami Mahdi.
BEFORE YOU GO
PHOTO GALLERY
Afghan Media