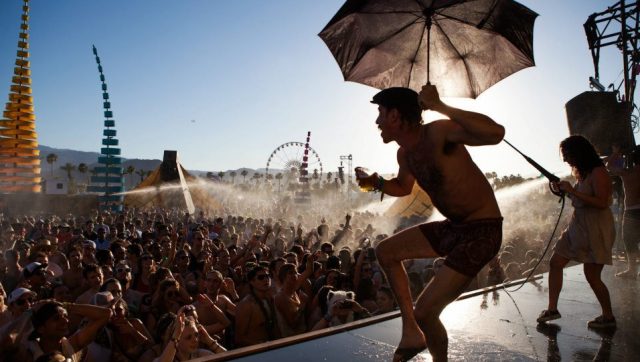 Coachella 2013 is officially sold out. Tickets for the desert festival, which takes place over the course of two weekends in April, went on sale Tuesday at 10 a.m. PST. Festival passes for Weekend 1 sold out in a record 20 minutes, but Weekend 2 passes remained available for the rest of Tuesday through early Wednesday morning. Coachella tweeted the below photo around 7 a.m. PST Wednesday: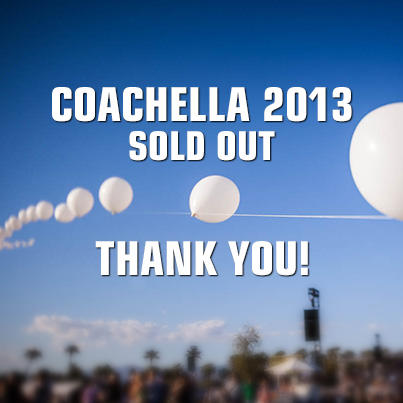 CLICK HERE FOR THE 2013 LINEUP.
There has been much talk about the 2013 lineup and fans and critics alike have expressed disappointment in the bands playing at the 2013 festival. Yet, at the end of the day, the negative internet chatter did not seem to affect ticket sales much. In 2011, it took the festival an entire week to sell out. Last year, tickets were gone in under two hours.
Just because you can no longer purchase tickets officially through Coachella, that doesn't mean you can't still set your GPS for Indio, Calif. this upcoming April. It has become standard practice to scour the internet for tickets to the festival. People looking to make a profit buy extra passes and then take to Facebook, Ebay, Craigslist, and a variety of other sites to make some extra cash on their golden tickets. But that doesn't come without its own set of risks. Many sell counterfeit festival passes for high prices, and everyone should be very careful in purchasing tickets online.
As of Wednesday morning, a single General Admission ticket for Weekend 1 is going for around $500 each on Craigslist. Tickets for Weekend 2, however, come with a lower price tag of about $350. Coachella's asking price for festival passes were $349 for General Admission and $799 for VIP. Weekend 1 takes place April 12-14, and weekend 2 takes place April 19-21.
BEFORE YOU GO
PHOTO GALLERY
Coachella 2013 Lineup