It's not often the ethereal and the historical overlap. Yet in the deserts of Namibia, fashion photographer Jim Naughten captured the spectacular dress of the Herero of Namibia -- southern Africans whose sartorial sense borders on surreal. The dizzying results are combined for Naughten's upcoming photography book "Conflict and Costume," which will be released this February 19 on Merrell Publishers.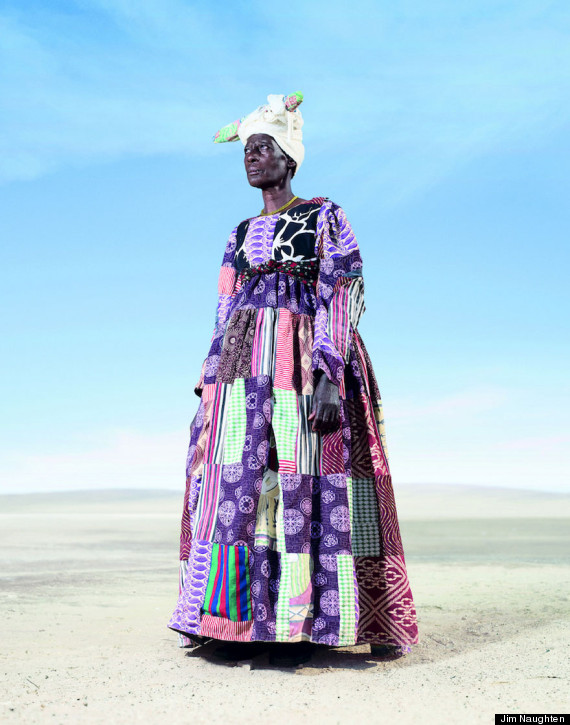 In the early 1900s, the German army ruthlessly killed thousands of Herero in what is now known as "Germany's first genocide." A hundred years later, descendants of General Lothar von Trotha traveled to the site of the German campaign in Namibia to apologize for their ancestor's actions. (After the 1904 Herero revolt, Von Trotha reportedly said: "I wipe out rebellious tribes with streams of blood and streams of money.")
When missionaries and traders began to push European dress upon the Namibian people, they rebelled, using cattle-horned headdresses and explosively colorful gowns to project their proud identities. The men later remixed the uniforms of German soldiers for their own forms of military attire. In his photography series, Naughten takes the already striking Herero of Namibia and places them against the pale desert landscape, allowing the loud colors and boisterous shapes of the couture to fully take over. His ethereal portraits present pride, strength and a wonderfully unique sense of fashion.
See the jaw-dropping images below and let us know your thoughts!
PHOTO GALLERY
Conflict and Costume
BEFORE YOU GO