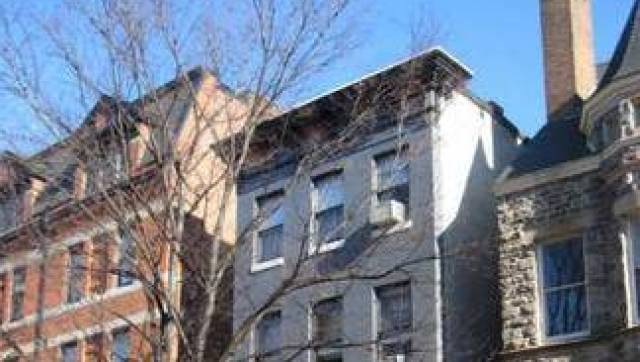 The Baltimore house where F. Scott Fitzgerald wrote some of his most notable works, and lived some of his toughest years, is for sale -- and it's reasonably priced! (At least it looks that way if you're accustomed to the punishing Washington, D.C. real estate market.)
The four bedroom, four bath, 3600-square foot townhouse at 1307 Park Ave. is in Baltimore's historic Bolton Hill neighborhood. It's listed for $450,000.
Fitzgerald, best known for writing The Great Gatsby, moved to this house after his previous Baltimore house burned down -- his wife, Zelda, is often fingered for the fire though other accounts blame faulty wiring.
He and his daughter with Zelda, Frances Scott "Scottie" Fitzgerald, lived in the Park Avenue house from fall of 1933 until fall of 1935, an unhappy time in Fitzgerald's personal life -- Zelda was institutionalized for much of it, and Fitzgerald himself struggled with insomnia and alcoholism, and faced persistent money troubles.
Check out photos of the house -- story continues below...:
PHOTO GALLERY
F. Scott Fitzgerald's House
According to a plaque on the house, however, that period was better for Fitzgerald, literarily -- Tender is the Night, Taps at Reveille and some of the essays from The Crack-Up were published while he lived there.
Let's hope that this house fares better than that of another Baltimore author. The wooden stairs on Edgar Allan Poe's Baltimore house were stolen last fall.
Here's the the listing for the Fitzgerald house on Estately.
PHOTO GALLERY
Prada & Mui Mui: The Great Gatsby
BEFORE YOU GO