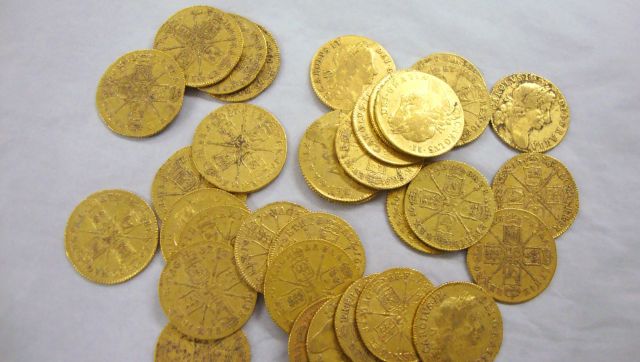 A building fire has led to an incredible treasure discovery in Ireland.
81 gold coins were found beneath the floorboards in Cooney's pub in the town of Carrick-on-Suir in South Tipperary. The hoard was dug up by workers restoring the fire-damaged premises, Sky News reports.
According to the Belfast Telegraph, the coins consist of mostly guineas and half-guineas dating back to the 17th century and depict the reigns of Charles II, James II, and William and Mary, who are featured in a joint portrait. The collection is among the most significant treasure finds in the country's history. With the exception of a few tarnished a buckled pieces, the coins are in excellent condition overall and have been handed over to the National Museum of Ireland.
Seamus Lyman, the museum's acting director, told the Irish Times that the discovery was the most significant of its kind in Ireland since 1947, when 100 gold and silver coins were unearthed in Portarlington.
"It has caused a lot of excitement because of the dates, and because of the number of them," Lyman said.
According to the Royal Mint, guineas were minted following the English Civil War until 1813, when Britain adopted the gold standard. The name "guinea" is derived from the West African origin of the gold used to make the coins, which was supplied by the Africa Company operating along the Guinea Coast.
Marie McMahon, the curator at South Tipperary Museum where the coins were first held, told Sky News that she believes the coins belonged to a merchant in the 17th century, when the town was a bustling trading center.
BEFORE YOU GO