Justin Bieber, innocent idol or sneaky groper?
According to his rep, his fans, and even the girl he supposedly groped, it's the former. Though the picture that drove the world wild looks pretty clear cut (Justin "copped a feel" at a meet & greet with his fans in Miami last weekend), the teen heartthrob is anything but creepy: Melissa Victor, Bieber's publicist, told Fox News the singer did not grab the girl's chest, but was "moving his hand away from hugging her" as the picture was being taken.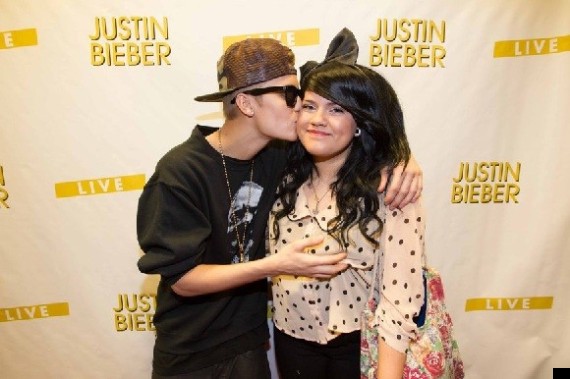 Jocelyn, the young lady in the photo who has since made it her avatar on Twitter, was in the eye of the storm, getting both heat and much support and admiration from fans. She used Twitter to clarify things for everyone:
Let me clear this up for people who can't read, NO I did NOT ask Justin to touch my boobs

— Jocelyn ♡ (@JocelynnBieber) January 27, 2013
And when diehard fans persisted, tweeted:
Some of you are being so rude, I did nothing wrong :(

— Jocelyn ♡ (@JocelynnBieber) January 27, 2013
A little later, she gave an explanation as to what did happen:
@luvjerry69 I never asked him that but ok lol, I told him I snuck into his meet and greet I didn't want security to hear me.

— Jocelyn ♡ (@JocelynnBieber) January 28, 2013
And ended with an exhausted but reassuring:
@luvjerry69 people can think what they want but I know what really happened & Justin does too so everyone else's opinions don't matter to me

— Jocelyn ♡ (@JocelynnBieber) January 28, 2013
Meanwhile, the Biebs' album "Believe Acoustic" went global two days ago and MTV predicts it will "debut at #1 on next week's Billboard chart. This marks his fifth chart-topper since he hit the scene." The album consists of acoustic versions of most of the 18-year-old's songs, plus three new tracks.
BEFORE YOU GO
PHOTO GALLERY
Justin Bieber Performs in London