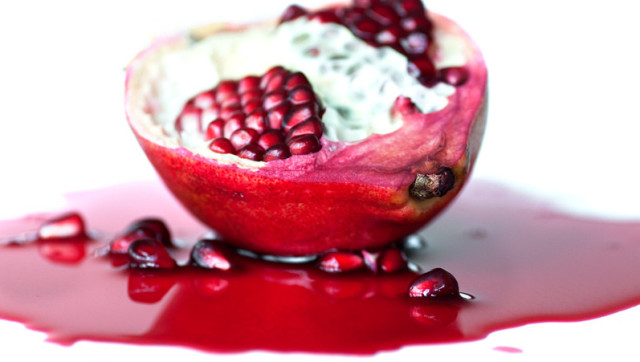 Hey cocktail lovers, we have to talk about your grenadine (or potential lack thereof). You know, that red syrup that's been sitting at the back of your home bar for ages? The kind you bought next to margarita salt and cocktail olives? Probably looks like this? Throw it out. We're starting over with the real thing. And the best part? You're going to make it yourself.
Grenadine was a mystery to us for a long time. As self-professed Shirley Temple maniacs in our youths, we were well-acquainted with the bright red hue and sugary taste. But grenadine wasn't always a crimson concoction of chemicals -- before production cost introduced high fructose corn syrup to the game, the real thing used to be made from pomegranates. That's right, real grenadine comes from fruit! And once you've made the real thing, from one of the two following dead simple grenadine recipes, we promise you'll never go back.
Grenadine is basically simple syrup made with pomegranate juice instead of water. We usually just pick up a jug of POM Wonderful (since it's additive free), but any pomegranate juice you want to use will work, so long as it has no added sugar. Trust us, you'll add plenty in a minute. For a pint of grenadine, you'll need one cup of pomegranate juice to one cup of sugar (pretty easy to double, right?). Then, you can combine them in one of two ways:
Combine pomegranate juice and sugar in a saucepan, warm over low heat, just until all the sugar is dissolved (just like simple syrup).
Or, combine room temperature pomegranate juice and sugar in a pint-sized mason jar. Seal tightly and shake the dickens out of it, until all the sugar is dissolved. [*Ed Note: We like this method best, because unlike cooking the mixture, shaking it causes no evaporation, so the mouthfeel doesn't get too syrupy and mess with your cocktail later on.]
That's it. That's seriously it. Pomegranate juice and sugar. Now you have made your own grenadine and you don't have to consume any more store-bought stuff. The ingredients of which are as follows: High Fructose Corn Syrup, Water, Citric Acid, Sodium Citrate, Sodium Benzoate (Preservative), Red 40, Natural and Artificial Flavors, Blue 1.
Which would you rather have a Shirley Temple with now? If you, like us, prefer a more adult beverage to showcase your new bar ingredient, try one of the greatest cocktails of all time, The Jack Rose.
The Jack Rose
2 ounces Applejack
1 ounce lime juice
1/2 ounce grenadine (Homemade, you guys. We insist.)
Shake well with cracked ice, then strain into a chilled cocktail glass.
We also love The Ward Eight cocktail (rye whiskey-based) and the gorgeous Clover Club cocktail (gin-based) to highlight our homemade grenadine.
Want to read more from HuffPost Taste? Follow us on Twitter, Facebook, Pinterest and Tumblr.
BEFORE YOU GO
PHOTO GALLERY
Pomegranate Recipes