A disgruntled worker did not walk out quietly after being laid off from a job at the U.K. music store HMV.
Instead, the former HR employee hijacked the company's public Twitter account and took to live-tweeting what was described as the "mass execution, of loyal employees who love the brand [sic]" using the hashtag #hmvXFactorFiring.
As Fast Company reports, the tweets have since been removed from the company's Twitter account: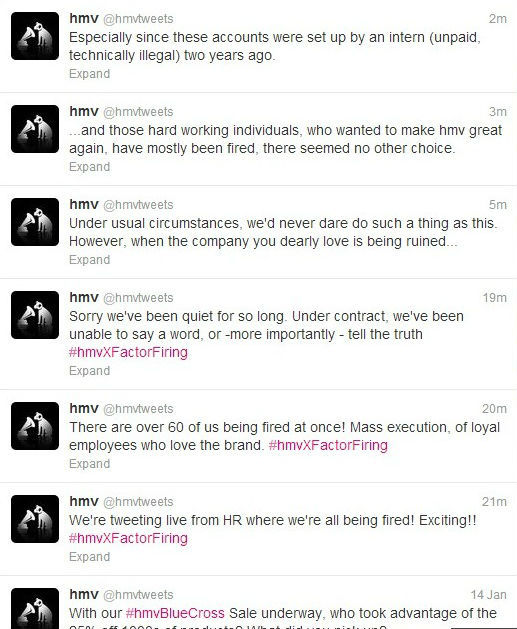 HMV has been struggling to compete with online competition and recently announced it was entering administration -- the process of rescuing an insolvent entity -- according to The Mirror.
While the tweets originally claimed 60 employees had been laid off, Deloitte, which is managing the administration, confirmed that 190 jobs had been cut, according to the BBC.
This isn't the first time a company bungled the announcement of layoffs. Dow Chemical Co. mistakenly leaked a press release announcing layoffs before they'd been made official. Aviva, an insurance company, mistakenly told its entire staff it was getting the axe when only one employee had been laid off.
Meanwhile, PayPal, Cheerios and Fox News have all been embarrassed by Twitter hijackings.
BEFORE YOU GO
PHOTO GALLERY
Workers Who Stood Up To The Boss