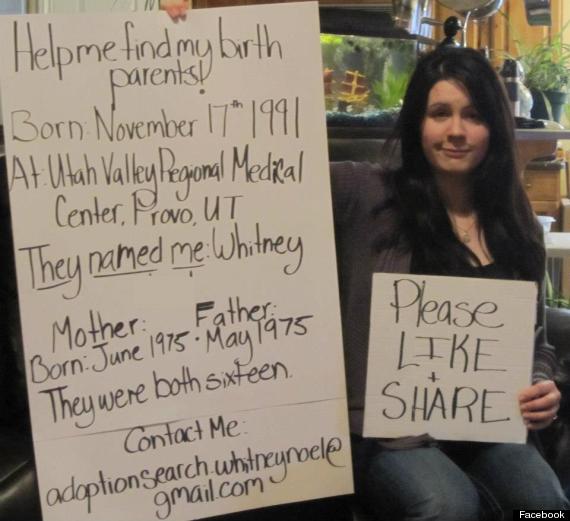 Facebook is supposed to connect people, but one Utah woman's incredible story recently brought new meaning to the power of social networking.
Adopted at birth, Jenessa Simons posted the above photo to her Facebook page Jan. 27 in an effort to find her biological parents.
"Everyone on Facebook's been posting posters like, 'One million likes and I get a puppy,' and I thought, 'Hey, these are getting shared around. I've seen kids get likes and get a puppy, so I should probably give it a shot,'" Simons told KSL.
Friends and friends-of-friends shared the photo more than 150,000 times. Although there were several false claims, three days later Simons was contacted by a woman that she believes is her birth mother.
"She sent pictures of me as a baby that my mother had given her," Simons told ABC News affiliate KTVX. The woman also knew that Simons had been born by caesarean section, a fact that she hadn't made public.
Simons said that she will take her time getting to know her birth mother, although the two may meet soon. She is still searching for her birth father.
According to ABC News, she later wrote: "This page has gone crazy and I would love to turn it into a resource for others to help find birth parents."
This isn't the first time Facebook has been used to locate family members. In 2010, a California woman reportedly reconnected with her children via the social network after having been separated from them for 15 years.
More From ABC News:
BEFORE YOU GO