A Manhattan building that was ravaged by Hurricane Sandy last year may have lost more than its physical facade during the storm. A new report suggest the building's cover was also blown.
According to the New York Daily News, City Council Speaker Christine Quinn alleged this week that the building, located at 92 8th Avenue, was an "illegal hotel full of European tourists" -- a secret that she says was uncovered when the building was being evacuated.
As Sandy swept through New York City on Oct. 29, the facade of the 8th Avenue building had collapsed due to the force of the storm. Fortunately, there were no reported injuries; but as might be expected, the building was quickly evacuated.
(Story continues below.)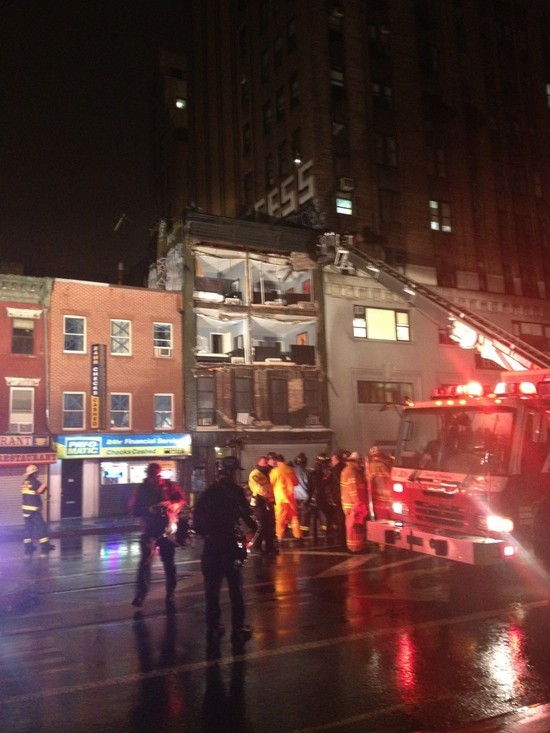 HuffPost's Meg Robertson, who took this photo of 92 8th Ave, said firefighters rushed in to rescue the building's residents shortly after strong winds tore the building's facade off.
In a letter sent to the city's Buildings Department this week, mayoral hopeful Quinn said that she quickly discovered the building's shadier side as the evacuation took place on Oct. 29.
"As someone who was on site during the vacate process I can attest to the fact that the users of the buildings were transient guests and not permanent residents," Quinn wrote, according to the Daily News, adding that the building's illegal rooms had been advertised through a website called Vrotels.com.
She has called for a full inspection of the building.
Visit the Daily News for more details on this story.
In recent months, the New York City Council have been cracking down on illegal hotels in the five boroughs.
In September 2012, CBS News reported that the Council had announced plans to increase fines on illegal hotels and their landlords as a way to dissuade the practice.
Just a few months before the Council's announcement, the New York Times reported that illegal hotels, as well as bed and breakfasts, were being shut down all across the city. Almost 1,900 notices of short-term rental violations had been issued at "hundreds of residential buildings" over the course of about a year, the Times said last April.
"The issue of illegal hotels is one that's been a mounting problem in the city over the last several years," John Feinblatt, one of Mayor Michael Bloomberg's chief advisors, told the Times. He adding that there had been a "tenfold increase in complaints" about illegal hotels between 2006 and 2011.
BEFORE YOU GO