Besides her music, Patti Smith is known for capturing ghostly black and white snapshots of objects owned by herself and her idols. However, the punk poet has another side to her photography, revealed in a series of rarely-seen landscape images on view this week at Clocktower Gallery in a group exhibit entitled, "Dark Paradise."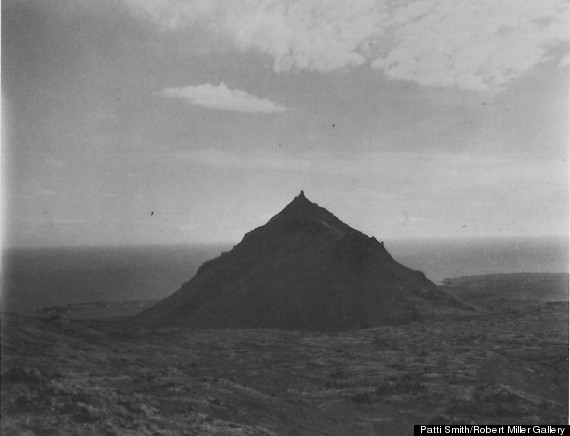 Patti Smith, Mountain in Iceland, 2006, Gelatin silver print. 8 x 10 inches, Courtesy the artist and Robert Miller Gallery
The exhibition was inspired by the sublime, an idea closely tied with the work of German painter Caspar David Friedrich. Smith and fellow musician Antony (from Antony and the Johnsons), are featured alongside pieces by artists Zipora Fried, Joan Jonas, Thiago Rocha Pitta and Nancy Holt. The collection of photographs, collage and video installations straddles the line between awe and fear, offering intimate, figureless portraits of the natural world.
Like Friedrich's paintings, Smith's landscapes harken back to the past, weighed down by memories of peoples no longer seen. It's a sentiment echoed in Antony's dark collages, Pitta's fictional projections and Jonas's dramatic performance; beautiful despite their eerie abandonment, they expose both the darkness and sacredness hidden in traditional landscapes. "Even in ruins, even in all its virulence, you can't deny the shadows of beauty emerging from things," Antony says in the gallery release.
Scroll through a preview of "Dark Paradise" below and let us know what you think of Smith's sublime-driven works in the comments section.
"Dark Paradise" will be on view from February 5 to April 1, 2013 at Clocktower Gallery in New York City.
PHOTO GALLERY
Dark Paradise
BEFORE YOU GO