One thing Hollywood and the art world share is a tendency to get a little self-serious. Luckily, street art prankster Hanksy is here to remind both egocentric circles to lighten up. In the past the vigilante jokester has coined celebrity-inspired puns including "Ferrell Cats," an ode to Will Ferrell and "Ice Ice Babies," paying homage to everyone's favorite 90's one-hit wonder, Vanilla Ice.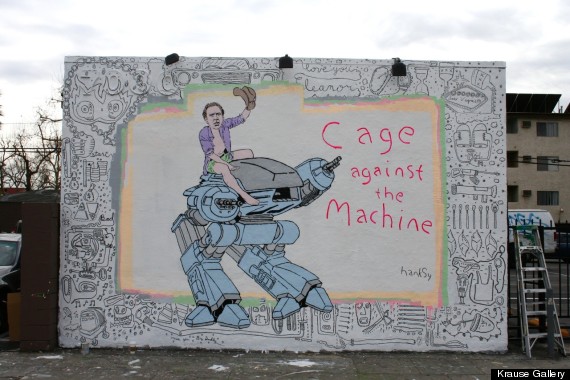 Now Hanksy, who originally took New York's city streets as his canvas, is expanding his purview to Chicago and LA. His newest A-list targets include Bradley Cooper, Ellen DeGeneres and, our personal favorite, Hollywood icon and beloved Internet meme Nicolas Cage. Check out Hanksy's new works and, if you're just becoming a fan, visit our previous coverage of the artist here, here and here.
Images courtesy of Krause Gallery.
BEFORE YOU GO