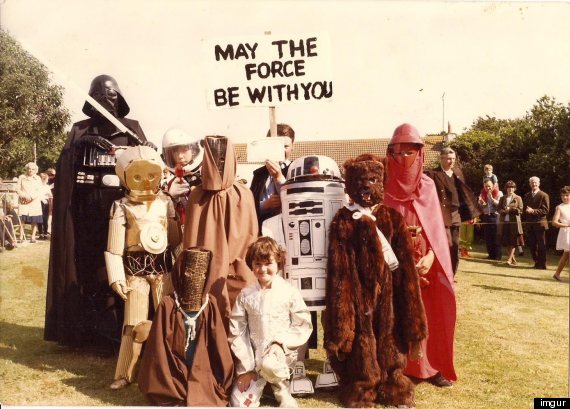 So since everyone is, like, crossing their fingers that a J.J. Abrams-helmed "Star Wars" won't turn out to be an Alderaan-sized CGI atrocity, here's a little reminder of how awesome fans of the franchise can be.
With a little imagination, some honest-to-goodness effort and a little help from some creative adults, these grade-school kids fashioned homemade "Star Wars"-themed group costumes that clinched first place at the 1984 Port Erin Regatta. (That's a summer beach festival on the Isle of Man, by the way.)
Truly, the Force is strong with these ones.
Redditor "bennychacha," a.k.a. C3PO, posted this awesome piece of nostalgia to a Reddit forum about (you guessed it) "Star Wars" on Feb. 4. While that costume is really amazing, it's not quite as rad as the apparently made-from-a-repurposed-fur-coat Chewbacca is sporting.
That being said, all of them look better than Jar Jar Binks.
(via Reddit)