As the Ravens fought their way to victory at the Super Bowl on Sunday, Sandra Bullock and her 2-year-old son Louis were at the Mercedes-Benz Superdome in New Orleans to cheer on their favorite Baltimore player: offensive tackle Michael Oher.
The Oscar-winning actress even dressed her little boy in a purple Oher jersey in support of the football star.
Story continues below Bullock's presence at the Superdome went beyond mere fandom, however. As Yahoo! News notes, the actress may have experienced a powerful "full circle moment" over the weekend, as she watched Oher clinch his first Super Bowl win with her son by her side.
As Us Magazine points out, Oher was the inspiration behind the 2009 biopic 'The Blind Side,' a film about a boy who had grown up impoverished before he was taken in by a woman and her family. In the movie, Bullock (who ultimately won an Academy Award for her role) portrays Leigh Anne Tuohy -- the woman who adopted Oher in real life.
Under Tuohy's tutelage, Oher's love and talent for football was given the opportunity to grow, ultimately leading to his successful college football career at the University of Mississippi and later, the NFL. He has since inspired many with his moving story.
Interestingly, Bullock experienced her very own "'Blind Side'-like moment" at around the same time that the film was being made. In 2010, Bullock adopted her son Louis -- then just a newborn from New Orleans -- just as her marriage to Jesse James fell apart.
On Sunday, TODAY reports, Bullock was at the game with both Louis and Tuohy by her side.
The actress, described as Oher's "No. 1 fan," is said to be close to the football player's adopted family.
After the Ravens' victory, Tuohy tweeted this celebratory photo of her and her son: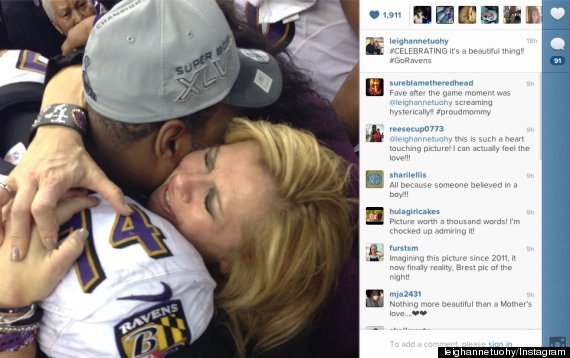 BEFORE YOU GO