NFL players steal the spotlight for lots of reasons. Proficiency in grammar has never been one of them.
Mark Saldanha, a second-grade teacher at Elmwood Franklin School in Buffalo, N.Y., decided to use that to his advantage last week, when his class selected tweets from NFL players -- and then corrected them.
"Basically, [the NFL players' tweets were] a warehouse of spelling mistakes and punctuation lapses," explained Saldanha to the Buffalo News. "I looked at it and thought, 'My second-graders can do better than this, so why not put this to the test?'"
According to a Facebook post on the Elmwood Franklin School's official page, the students worked in groups to apply their knowledge of "proper sentence structure, noun and verb usage, spelling, and punctuation" to tackle the poor grammar of professional football players. Photos of the corrected tweets were posted on Facebook when the assignment was complete.
(SCROLL DOWN FOR PHOTOS FROM THE PROJECT)
While many Facebook commenters supported the assignment as a creative way to demonstrate the real-life importance of grammar, others were less supportive. Wrote one commenter, "Wow! Cyberbulling 101. Their teacher taught them how to call someone out on the Internet and try to embarrass them. He or she is self-righteous and petty..."
Tweets that made the selection posted online belong to several NFL players, including Chris Culliver, the 49ers player who sparked controversy last week by making insensitive statements about potentially gay NFL players. Culliver has since deleted the tweet used in the students' project. "I pray to God I'm never dieing broke," the post read.
The project also used a tweet (seen below) from Titus Young, a Detroit Lions wide receiver whose tweets have earned him trouble in the past.
A tweet (below) by Patriots wide receiver Wes Welker was also used.
PHOTOS of the offending tweets and their corrections [via Facebook]: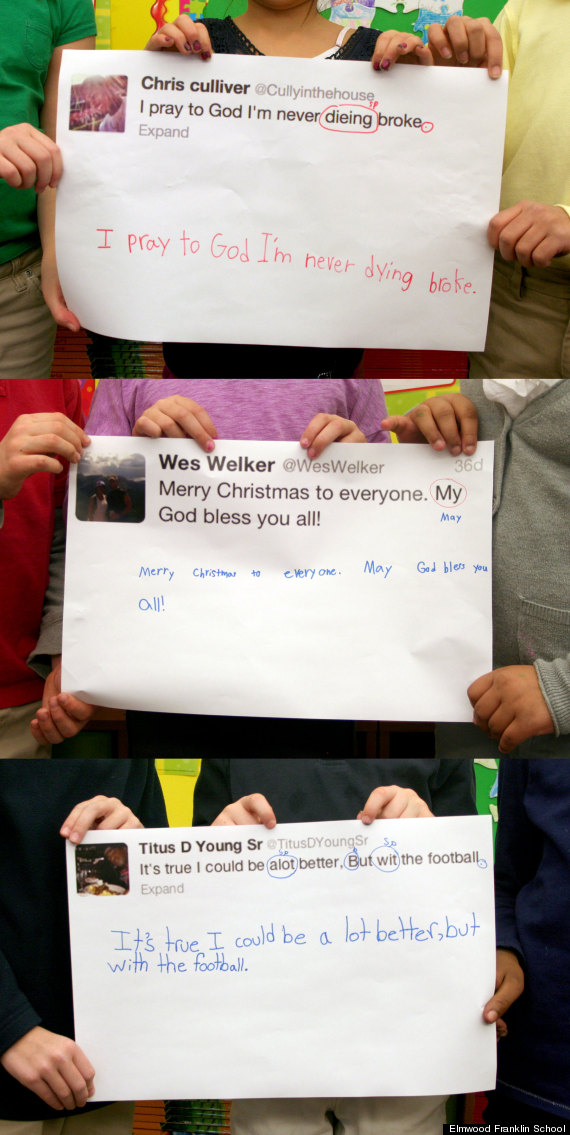 BEFORE YOU GO