We've been waiting patiently for weeks, but finally the first photo of Shakira and Gerard Piqué's baby Milan is here!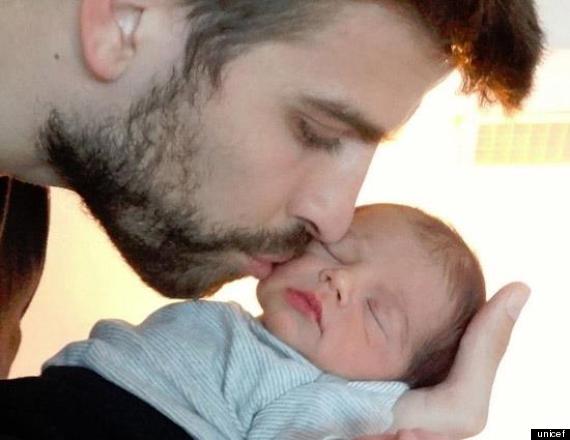 The Colombian and Spanish stars have shared the a picture of their newborn's face with all their fans through the United Nations organization UNICEF that helps children worldwide, and for which the singer and her boyfriend have served as ambassadors for years.
Visit our @unicef #Babyshower to see the 1st pic of my 2 angels & help underprivileged babies uni.cf/baby Shak

— Shakira (@shakira) February 4, 2013
The image shows an adorable moment between father and son, in which the soccer athlete kisses his sleepy baby on the cheek.
Earlier, Piqué had published in Twitter an image of his son, wearing his first sneakers, engraved with his name.
Milan was born on January 22 at 9pm in Barcelona, Spain, by a scheduled caesarean section, and weighed approximately 6lbs. 6 ounces.
"The name Milan means dear, loving and gracious in Slavic; in Ancient Roman, eager and laborious; and in Sanskrit, unification," Shakira said in a press release.
The father had said in the past that his son looks more like him. But now we ask you, who do you think Milan looks more like, mamá or papá?
BEFORE YOU GO
PHOTO GALLERY
Baby Milan Piqué Mebarak