When driving down India's famous Grand Truck Road, it's not uncommon to hear a symphony of horns serenading your trek between India and Pakistan. That's because, in the absence of accepted lane divisions and conventional side-view mirror etiquette, the mantra of the long and winding highway is "Horn Please."
The two word phrase describes the underbelly of the country's truck driving culture, a niche demographic that caught the eye of New York-based photographer Dan Eckstein. In a series named after the curious advisement, Eckstein examines the colorful realm of the Indian transportation industry, marked by its vibrant interior and exterior decorations that form a unique and regionally varied folk aesthetic.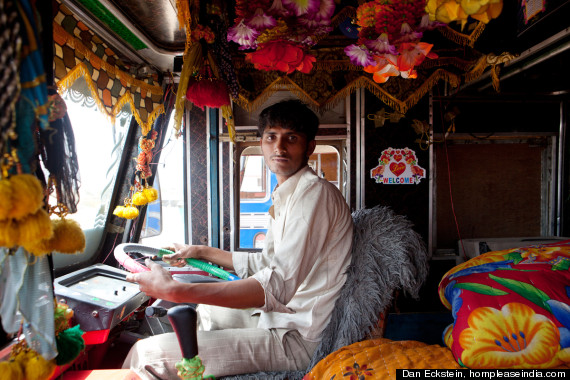 "Horn Please" offers a glimpse inside the world of drivers, truck stops, restaurants, and repair services that make up a roadside culture familiar yet wildly distinct from the one most Westerners have come to know. "The men who drive these trucks do not have it easy but clearly take pride in their work," Eckstein remarked in a statement. "They work long hours in dusty and dirty places but seem to revel in the camaraderie of the other drivers and the excitement of the open road."
Scroll through a selection of Eckstein's images below and let us know what you think of his project in the comments section. For more images, check out the photographer's website here.
CORRECTION: An earlier version of this story misspelled Grand Truck Road.
PHOTO GALLERY
'Horn Please' by Photographer Dan Eckstein
BEFORE YOU GO