He may be one of the funniest stars in Hollywood, but Jason Segel's lady love apparently had no idea who he was before she met him.
That's right -- in the March issue of InStyle magazine Michelle Williams admits she had no clue Segel wrote and starred in movies like "Forgetting Sarah Marshall" and "The Muppets" when she first laid eyes on the "How I Met Your Mother" star.
When asked about her beau of a year, Williams says "he is nice," adding, "I didn't actually realize who he was before I started dating him. I mean, I saw the Muppets movie, and I thought, 'Oh, that's cute,' but the truth is I didn't realize he made a lot of very popular, funny movies or was on a TV show."
Still, there was something else much more important that she didn't see coming.
"I didn't realize he was so tall," Williams jokes about her 6'4" man. "I thought, 'Hey, man, you're cramping my style!' I tried wearing wedge heels for a while to compensate," she continues, "but it wasn't me and I just gave up."
Williams, 32, and Segel, 33 -- who've been romantically linked since March 2012 -- moved in together in October, sharing a waterfront apartment in Red Hook, Brooklyn, with her 7-year-old daughter Matilda, whose father is the late Heath Ledger.
And since shacking up with Segel, Williams confesses she's become quite the housewife!
"I cook and clean a lot these days. I'm in a very domestic cycle, and I happen to love it," she tells InStyle, which she covers with her "Oz The Great and Powerful" co-stars Rachel Weisz and Mila Kunis. "I feel like this is a real expression of my love for my daughter. Not the only one, but an important one," Williams adds. "As a parent, you want the kid to come back to a place where it seems like the walls are made of feather down."
But despite her stint as a stay-at-home mom (or maid?), Williams says she's never been happier -- and that it has something to do with that funny guy -- you know, the one she never knew existed.
"The other day I was out there all bundled up and the sun was shining and I realized I was smiling in a way I hadn't in a long time," she notes. "The roses in my cheeks weren't from makeup for once. It was a perfect moment."
Check out the cover of InStyle's March issue below and get more from the interview here: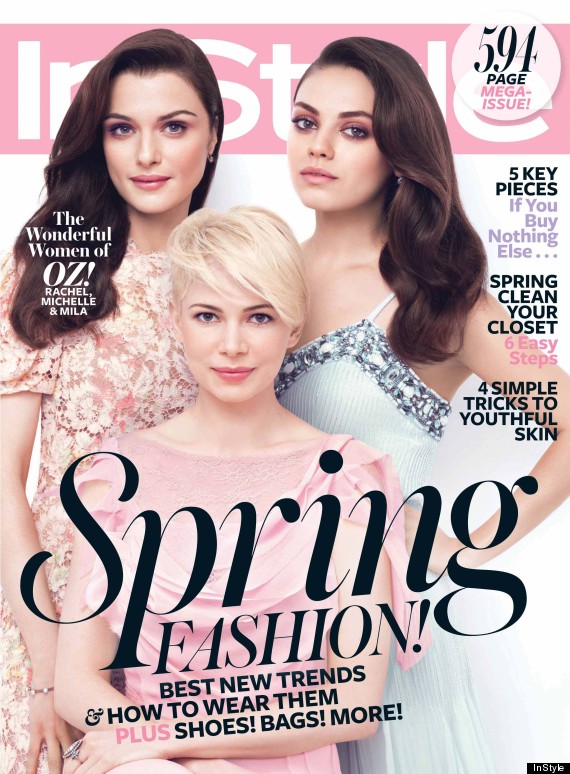 BEFORE YOU GO
PHOTO GALLERY
Celebrity Couples