Painter Joan Semmel shakes up our preconceived notions of the contemporary self-portrait by translating hers into paint. Her latest exhibition at the Bronx Museum, entitled, "The Lucid Eye," depicts the aging process with honesty and -- dare we say -- defiance.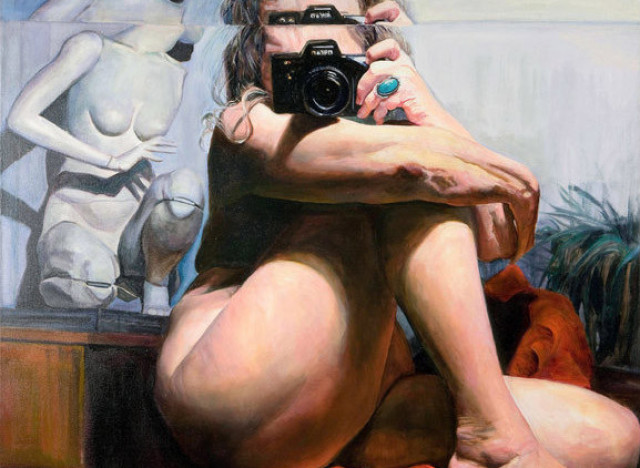 In a video interview with Artforum, the artist says, "One of the reasons I decided to use myself, was that I wanted to be a specific body...that is not idealized, so the culture absorbs people as they are, not as they'd like them to be." Semmel, who was born in 1930, begins with taking regular photographs of herself — sometimes of her face via webcam, sometimes of her nude body in the mirror. At times the flash of the camera or the glow of the computer screen distort the images, adding a contemporary reminder to the classic and often objectifying tradition of the painted female nude. It's worth a reminder that while naked women pervade gallery and museum walls to this day, whether they be Impressionist classics or up-and-comers, the representation of older women is shockingly low.
Contemporary female self-portraitists often pull a Cindy Sherman, using their work to show the impossibility of relaying an essential identity. Semmel's portraits, however, openly tell the story of her own changing body, using one of art history's most timeless tropes to create a truly provocative contemporary portrait.
Joan Semmel's exhibition will show until June 9 at The Bronx Museum in New York.
Check out a preview of Semmel's work below and check out the work of Aleah Chapin to see more unconventional nudes of older women.
PHOTO GALLERY
Joan Semmel
BEFORE YOU GO