The Asian Student Association at Duke University is protesting a fraternity party held last week that it says was racist toward Asians, the Duke Chronicle reports.
Students from the group distributed fliers on campus featuring photos taken at Kappa Sigma's Feb. 1 "Asia Prime" party that show students with their faces censored, dressed in traditional Asian garments such as conical sedge hats and sumo wrestler attire. Angry students have labeled the party the "#RacistRager."
"We are protesting the culture of acceptance at these kinds of things," Ting-Ting Zhou, president of the Asian Students Association, told the Chronicle. "The administration does nothing."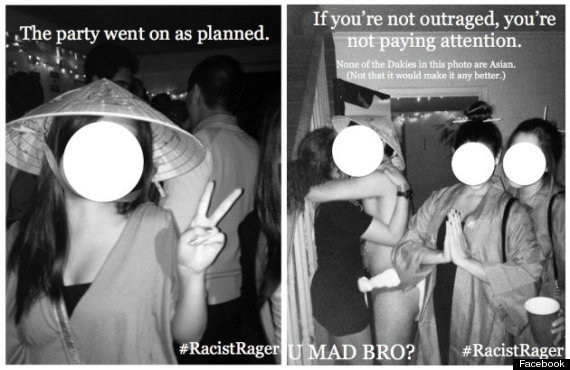 Via Asia Students Association (Duke University) Facebook
An email promoting the party features the puppet character of former Korean leader Kim Jong-Il from "Team America: World Police" and reads "Herro Nice Duke Peopre" in a misspelling intended to convey an east Asian accent.
The original email invitation prompted a formal bias incident report to the Office for Fraternity and Sorority Life, according to the Chronicle. In response, Kappa Sigma announced they would rename the party "International Relations" instead of "Asia Prime."
"This is a disappointing reminder that, despite our considerable efforts to educate students about cultural sensitivities, we have much work yet to be done," Larry Moneta, vice president for student affairs at Duke University, said in a statement to HuffPost. "We are resolved to use these events as learning opportunities."
A school official told WTVD that Duke does not plan to discipline the fraternity.
Kappa Sigma did not return requests for comment by The Huffington Post. Kappa Sigma president Luke Keohane told the Chronicle they should've just canceled the party entirely, rather than renaming it.
Kyle Jones, president of the National Pan-Hellenic Council, stopped just short of officially condemning the fraternity in a brief op-ed calling for reflection:
Too often in years past, Duke fraternities have hosted parties with themes that marginalize and ostracize entire minority populations based on misguided representations. This level of ignorance is antagonistic to the principles on which many of our organizations were founded.
Marcus Benning, president of the Duke Black Student Alliance, said in a letter to the student newspaper that his group also condemns Kappa Sigma for throwing the party.
According to a Facebook event invite, more than 700 people are planning to attend a 1 p.m. EST demonstration at a campus bus stop on Wednesday. The Duke Asian Students Association will also hold an open discussion on the the controversy Wednesday evening.
The fraternity chapter, Eta Prime, regained recognition by the university in 2012 after a decade off campus. The chapter chose to dissolve in 2002 rather than face punishment from Duke for alcohol policy violations and financial errors, according to the Chronicle.
The Kappa Sigma party follows previous racially tinged incidents at the school, among them a "Pilgrims & Indians" party thrown by Duke's Pi Kappa Phi fraternity in 2011 and a student who dressed in blackface at a Halloween party in November.
UPDATE, Feb. 7 -- The national parent organization of Kappa Sigma has suspended the Eta Prime chapter at Duke, the Associated Press reports. Luke Keohane, the chapter's student president, also issued an apology in an op-ed.
PHOTO GALLERY
What People Are Saying About Kappa Sigma's #RacistRager On Twitter
One of the tweets in the slideshow above was removed because it could be taken out of context.