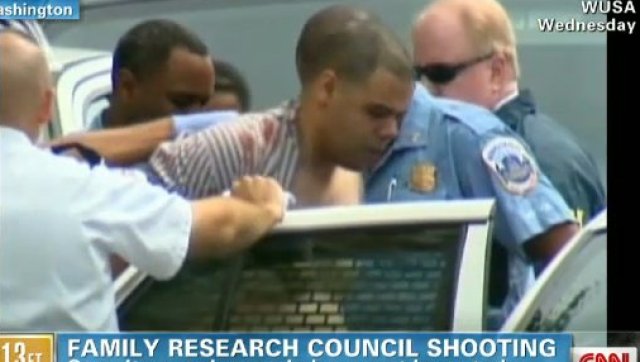 WASHINGTON -- Floyd Lee Corkins has pled guilty to charges stemming from the August 15 shooting of a security guard at the Family Research Council's D.C. headquarters.
Corkins, who carried a handgun, a box of ammunition and 15 Chick-fil-A sandwiches when he shot Leo Johnson in the arm, pled guilty to three charges: Transporting a gun across state lines, assault with intent to kill and committing an act of terrorism while armed.
The Washington Post reports details that have emerged about the shooting:
Corkins told FBI agents who interviewed him that day that he "intended to kill as many people as possible" and to "smother Chick-fil-A sandwiches in their faces," according to the plea agreement Corkins signed in December.
According to an AP report, Corkins told the judge that "he intended to make a statement against gay rights opponents."
Earlier AP reports also drew this connection:
The Family Research Council has defended Chick-fil-A since the fast-food chain's president, Dan Cathy, spoke publicly about his opposition to gay marriage.

Corkins' parents told investigators that he was a supporter of gay rights, and he said he didn't agree with the FRC's politics before the shooting, according to the documents.
"The shooting was not an accident," assistant U.S. Attorney T. Patrick Martin said, according to the Washington Post. "He committed to the shooting for political reasons."
WUSA9 reports that Corkins' sentencing hearing is set for April 29, and that the Virginia man faces up to 70 years in prison.
PHOTO GALLERY
Family Research Council Shooting
BEFORE YOU GO