If you thought the ladies of Destiny's Child looked fabulous onstage at the Super Bowl, just wait until you see Beyonce's latest Instagram photo.
Posted Wednesday night, the photo features Kelly Rowland, Michelle Williams and Beyonce returning to their "Bootylicious" days. The trio is looking fly, staring into a mirror with puckered lips and big eyes. The picture has garnered nearly 36,000 "likes" and more than 3,600 comments.
Another photo posted shortly before that one has Tina Knowles and Beyonce's cousin Angie looking fierce alongside the Destiny's Child women. Many Instagram commenters noted how much of a "boss" the eldest Knowles, often referred to as Miss Tina thanks to her eponymous fashion line, appeared to be. Beyonce used the hashtag "#myclique" to describe the photo, a sentiment that prompted some users to ask whether they could be part of the group too. (We're going to take a guess that the answer is a swift no.)
Beyonce, who has 2.2 million followers but does not follow anyone herself, has the 14th most popular Instagram account. Among the celebrities with more popular accounts are all five Kardashian/Jenner sisters, Justin Bieber, Rihanna, Taylor Swift, Ariana Grande, Harry Styles, Snooki and Chris Brown, who recently deleted his Instagram after comparing himself to Jesus Christ.
Beyonce's Instagram page has been the subject of plenty of news as of late. Shortly after the Super Bowl, she posted a handwritten note describing the pride she felt on behalf of African-American women, calling Williams, Rowland, Alicia Keys and Jennifer Hudson "beautiful" and "talented."
And while her post-Super Bowl presence may be all fun and games, the "Halo" singer's post-inauguration mood was somewhat different. Following the seemingly endless controversy that stemmed out of her lip-synced national anthem performance, Beyonce posted a photo of herself in a sweatshirt that says "Can I live?"
Well, Bey, based on the overwhelmingly positive reactions to your Super Bowl performance, yes, you can.
Here's the full-length shot from Beyonce's Instagram: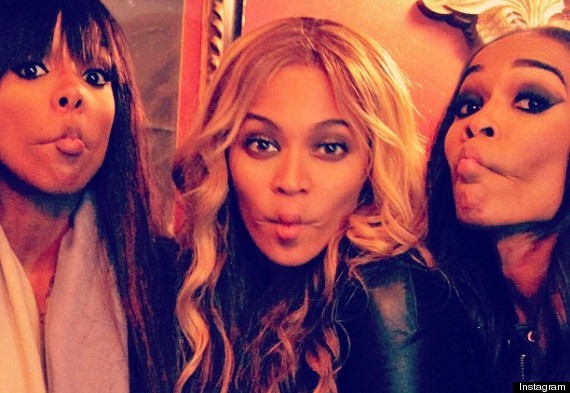 BEFORE YOU GO
PHOTO GALLERY
Super Bowl Performers