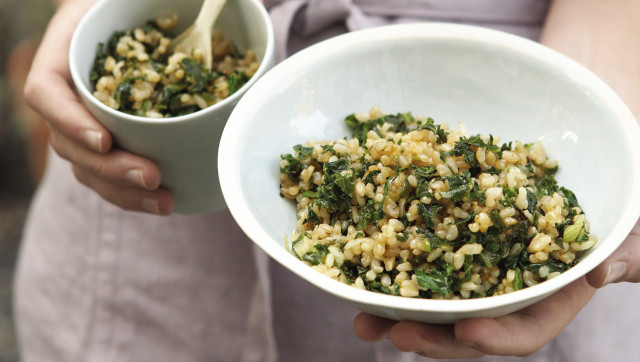 There are two kinds of fried rice. The perfectly greasy one from the cheap Chinese spot that you know can't be good for you. And then there's the healthy fried rice, like this kale and scallion fried rice recipe.
Healthy fried rice recipes hit the spot in a totally different way; they're comforting and cheap, but also feel like a smart choice for dinner. While there's a time and a place for both, we're pretty partial to the latter.
A healthy fried rice recipe, like this kale and scallion one, is the perfect dish to make when you have leftover rice. And, it takes only 15 minutes to put together -- which makes this fried rice recipe a smart and easy option for dinner.
Get the Fried Rice with Kale & Scallions recipe
Want to read more from HuffPost Taste? Follow us on Twitter, Facebook, Pinterest and Tumblr.
What to do with leftover rice.
PHOTO GALLERY
Leftover Rice Recipes
BEFORE YOU GO