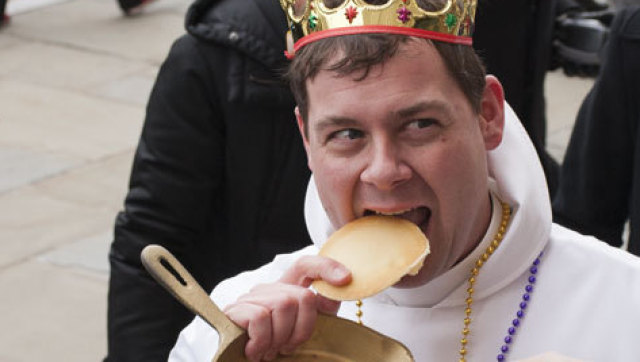 WASHINGTON -- Mardi Gras tends to be associated with people doing debaucherous things for cheaply produced, colorful beads. The Washington National Cathedral is hoping to change that with their annual Mardi Gras Pancake Races.
Shrove Tuesday, commonly known as Mardi Gras, is celebrated the day before Ash Wednesday, which marks the beginning of Lent. Before Christians begin their six-plus week Easter penitence, a New Year's Eve style celebration is a last opportunity for excess.
"Pancake Day," a British tradition, dates back to the 12th Century. According to the National Cathedral site, "This is the only event of its kind in Washington, celebrating the British tradition of "Pancake Day," as Mardi Gras is known there, to mark the last day before the beginning of Lent. In centuries past, cooking pancakes made good use of eggs, butter, and milk--all rich foods that are traditionally eschewed during the forty days of Lent."
Click through the slideshow for photos from the 2012 Pancake Races
PHOTO GALLERY
2012 National Cathedral Mardi Gras Pancake Races
The Washington National Cathedral will host the Pancake Races on Tuesday, February 12 at 12:30 p.m. Teams from the Cathedral and National Cathedral School, St. Albans School, Beauvoir Elementary School, St. Alban's Parish and Episcopal Diocese of Washington will compete for the Golden Skillet, the competition's top prize.
BEFORE YOU GO