A Pennsylvania gun shop owner gave away an assault weapon and ammunition in an effort to support the Second Amendment.
Erik Lowry -- the owner of Pittsburgh Tactical Firearms, which bills itself as "America's Largest Online Firearms Mall" -- recently gave away hundreds of rounds of ammunition, dozens of high-capacity magazine clips and an AR-15 assault weapon on the gun shop's Facebook page.
"It was really simple," Lowry told NewsRadio 1020 KDKA. "All you had to do was go to our Facebook page, like the page, and share it with your friends." (Scroll for contest rules.)
When the radio host asked Lowry why he thought anyone would need an AR-15 (the type of weapon reportedly used in the Aurora and Newtown shootings), Lowry said it came down to the Second Amendment.
"Number one it's your right, your Second Amendment right to own a firearm, no matter what kind it is," he said. "Citizens should be armed well enough to defend themselves from a tyrannical government," and should therefore have weapons on the same grade as firearms used by the military.
Visit to KDKA to hear audio of the full interview.
While the whole thing started out as a Christmas giveaway, Lowry told The Huffington Post he can understand why some people have construed his contest as a form of protest against President Barack Obama's gun control proposals.
"I guess it could be perceived as a form of protest, although that wasn't our original intent," he told HuffPost, adding, "I didn't vote for the guy, obviously."
The response by and large has been overwhelmingly positive, according to Lowry.
"Our phone's been ringing off the hook," he told HuffPost. "I struck a chord."
The Pittsburgh Business Times noted that following the Newtown shooting, gun sales were up in the area. And in an interview with the Daily Beast in December, Lowry said that his inventory had been severely depleted in the rush to buy weapons.
"I am completely sold out," Lowry said at the time. "I've got maybe half a case of ammunition left, I have backorders for almost 250 rifles, my website has been bought out, I can't fill orders."
On the other hand, of course, "with good comes the bad," Lowry told HuffPost on Thursday.
"Left wing crazies [have called] us baby killers," he said. "Stuff like that doesn't really affect me because I know it's said by lunatics."
Lowry said the store is planning another gun giveaway as soon as things calm down a bit. He said the first winner ended up giving the gun to his son, who is stationed in Texas with the Navy.
See a screenshot of contest rules below: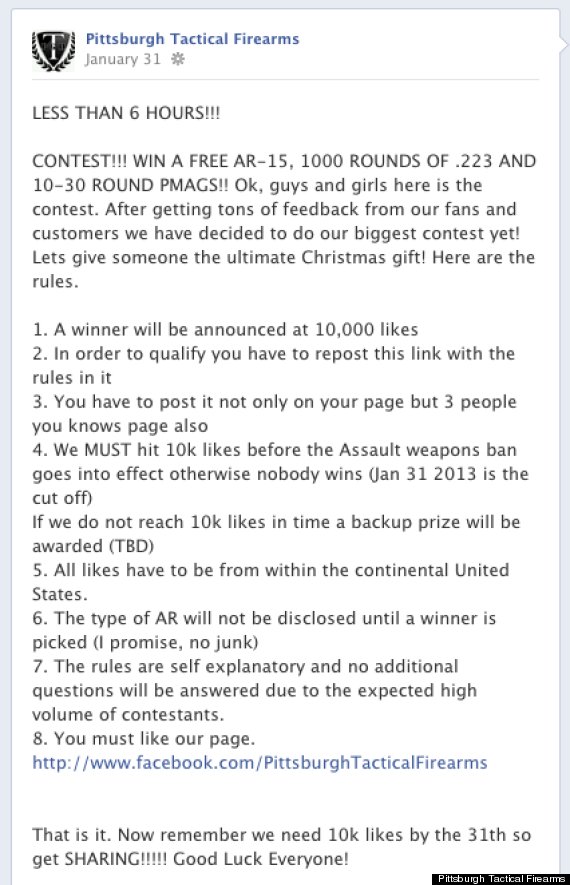 BEFORE YOU GO
PHOTO GALLERY
Places That Also Sell Guns