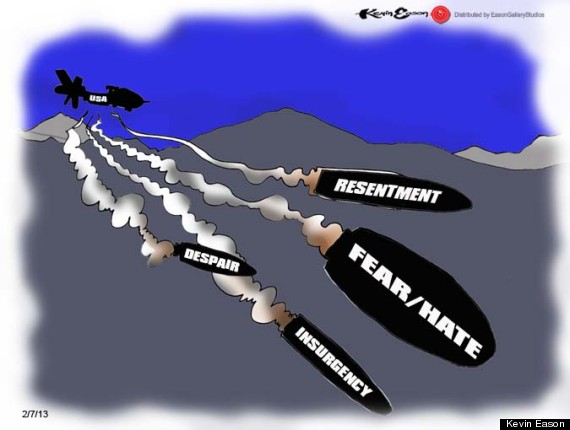 The country's use of drone strikes has become a hot topic this week. After facing increased pressure from members of Congress, President Obama directed the Justice Department's Office of Legal Counsel to provide access to a classified memo outlining the administration's legal justification for targeted killing.
The issue has brought up questions of government transparency and has even sparked heated debate between television hosts.
But what's the real reason for the country's practice of targeting and killing suspected terrorists using drones? Cartoonist Kevin Eason illustrated his ideas of what other motivations are behind the drone policy, including fear, resentment and despair.
This certainly wouldn't be the first time the administration has been criticized for the practice, as opponents of the policy say the strikes are killing and injuring too many innocent civilians.
What do you think? Are drone strikes a measure of safety or are their other motivations behind the policy? Is the policy a way of fight terrorism with terrorism? Share your thoughts in the comments section below.
About the artist:

Kevin Eason is a freelance editorial cartoonist and illustrator from New Jersey. His brand of satire covers news events in politics, entertainment, sports and much more. Kevin's work features include: Gannet, TVOne, Uptown, The Urban Daily, NAACP, Cengage Publishing, Bossip, WBLS_107.5FM, and various newspapers and magazines throughout the country. Follow him on Facebook.
BEFORE YOU GO
PHOTO GALLERY
The Political Satire Comedy Of Kevin Eason