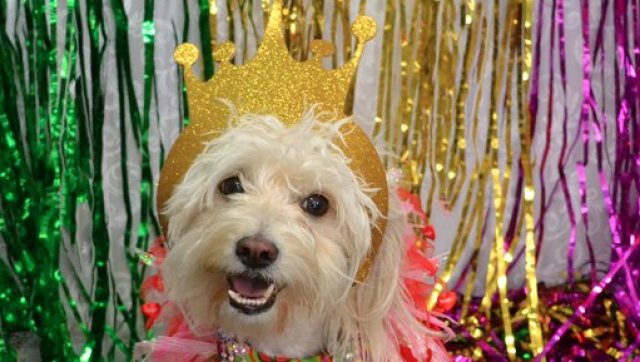 A maltipoo who saved a puppy from a coyote attack has people clamoring to call the her their own.
Applications from across the country poured in for Sophie, 2, since the attack several weeks ago at her previous owners' Calif. home, San Diego 6 reported. The family, hearing a cry from the backyard, looked out to see a coyote lunging at their newly adopted puppy, 7-month-old Lulu.
Defending her new sister, Sophie heroically placed herself between the two and suffered injuries to her shoulder, neck and sides.
"This hero protected her canine friend from a coyote!" reads a post on the Facebook page of Helen Woodward Animal Center, where the family surrendered both dogs for their protection.
A few days after the incident, a local family adopted Lulu. Sophie, however, needed the supervision of veterinarians before she could find a permanent home.
Shortly after she healed from a procedure, Fox News aired her story. Soon, staff received applications from cities as afar as Billings, Mont., Columbia, S.C. and Camden, N.J.
To field the requests, the center asked applicants to write a 300-word essay, 10 News reported.
"Sophie is worth it," said Shannon Bush, who works at the center. "She really embodies every characteristic people hope to find in a furry family member -- loyalty, heart and sincere devotion."
According to a press release, Sophie's new home will be unveiled during a "Mardi Paws" parade on Tuesday in Rancho Santa Fe.
"We found the perfect family," Animal Services Manager Ed Farrelly said in the release. "We all want to celebrate and say goodbye."
BEFORE YOU GO
PHOTO GALLERY
Dogs Who Can't Stop Giggling