Comedian Stephen Colbert is lending his star power to older sister Elizabeth Colbert Busch's fledgling congressional campaign, encouraging supporters to attend a pricey New York fundraising dinner later this month.
"I know she is a bright, competent, caring woman who will work hard on behalf of all the citizens of South Carolina's 1st Congressional District," Colbert writes of his sister, whom he calls Lulu, in an invite promoting the event. "This is an open seat due to the former Republican Congressman's appointment to the U.S. Senate. There are three Democrats and sixteen Republicans running in the Primary, including former Governor and renowned hike-lover Mark Sanford. Our chances look good."
Former South Carolina Gov. Mark Sanford (R) jumped into the race earlier this year, seeking to make a political comeback after a high-profile sex scandal that involved him disappearing to hike on the "Appalachian Trail." Sanford was actually in Argentina, visiting his mistress, to whom he's now reportedly engaged after divorcing his wife.
Colbert Busch, director of Sales and Marketing for Clemson University's Wind Turbine Drivetrain Testing Facility, announced her candidacy last month for the seat of former Rep. Tim Scott (R-S.C.), who was appointed to fill the seat of outgoing Sen. Jim DeMint (R-S.C.).
Colbert took a more active role in his sister's campaign this week. On Wednesday, he made his first mention of her political aspirations on his Comedy Central show, "The Colbert Report."
"Holy cow! My sister is running for Congress!" Colbert said. "Republicans are all over this election like white on Republicans."
Colbert is set to host a "Special Evening" on Feb. 22 in the home of a New York City couple, Summerville Patch reports. The night will begin with a private reception and photo op at 6 p.m. and continue with a general reception at 6:30 p.m. At 8 p.m., guests will head off to dinner at a restaurant on the Upper West Side. Guests will have to pay $1,000 to be on a list for the reception, $2,600 to throw in a personalized book signing and $5,200 for the whole package.
Here's the full invite: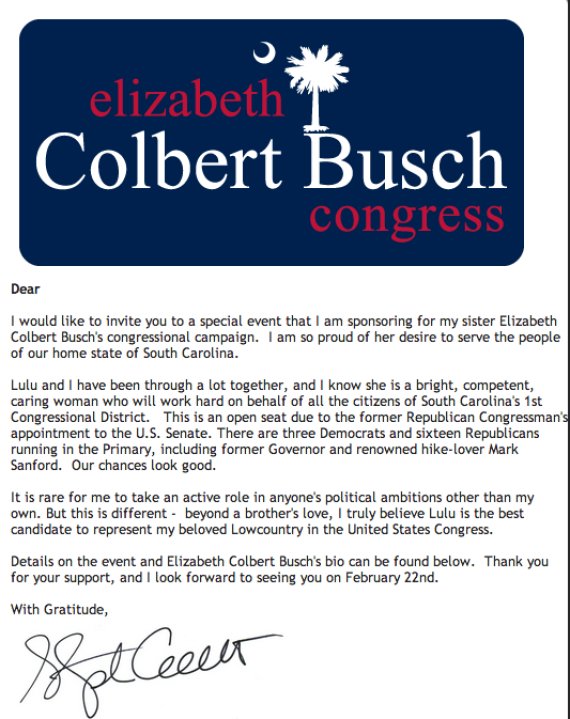 .
UPDATE: 5:40 p.m. -- St. Andrews Patch reports that the Colberts will also hold a fundraiser in Charleston, S.C.:
They'll do it all again the following day in Charleston. A private reception starts at 3 p.m. and a general reception with bowling (yes, bowling) from 4-6 p.m.

The reception takes place at The Alley in Charleston.

At 6:30 there will be dinner at a venue to be announced.

Tickets for the general reception are a bit cheaper for the Charleston event at $250. The contribution for the private reception and the entire evening are the same as in New York.

Full details for the Charleston event can be found here.
BEFORE YOU GO
PHOTO GALLERY
Political Sex Scandals