The Black Keys won Best Rock Song at the 55th annual Grammy awards for "Lonely Boy."
Best Rock Song, which was first awarded in 1992, honors the songwriters. According to the Grammys, the Best Rock Song winner "must contain melody and lyrics and must be either a new song or a song first achieving prominence during the eligibility year; songs containing prominent samples or interpolations are not eligible."
The Black Keys' "Lonely Boy" -- co-written by six-time 2013 Grammy nominee Dan Auerbach, Brian Burton & Patrick Carney -- beat Mumford & Sons' "I Will Wait," Jack White's "Forever At 21," Muse's "Madness" and Bruce Springsteen's "We Take Care of Our Own" for the award. This is the Black Keys' first win in the category.
Last year, Foo Fighters won Best Rock Song for their track "Walk."
For more on the 2013 Grammys, check out the liveblog below.
PHOTO GALLERY
Grammy Awards 2013
02/10/2013 11:44 PM EST
Good Night, Everyone!
The 55th annual Grammy Awards have come to a close. Dan Auerbach from The Black Keys was a big winner, but Frank Ocean, fun., Mumford & Sons, Kelly Clarkson and Kanye West & Jay-Z were all honored with Grammys.
From all of us here at HuffPost Entertainment, we hope you enjoyed the show. See you again on Feb. 24 for the 85th annual Academy Awards.
Here's Lena Dunham and Taylor Swift again, just because: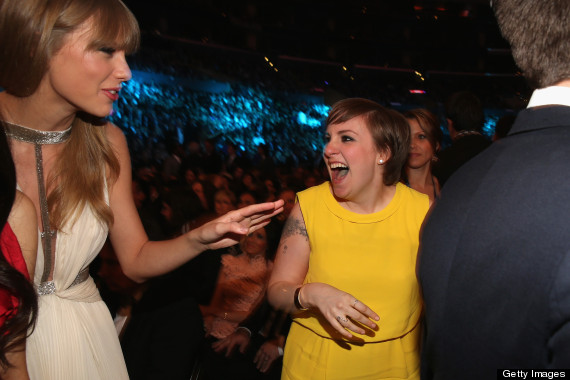 02/10/2013 11:34 PM EST
Good Notes
@ johannacox :

Not enough Beyonce and nowhere near enough Solange. #grammys
02/10/2013 11:33 PM EST
You've Got To Fight For Your Right To Delta
@ TVWithoutPity :

Wow, the closing #Grammys jam was bumrushed by sponsor shout-outs. Thought it was MCA forever, not commerce forever.
02/10/2013 11:30 PM EST
The Broadcast Is Over
LL Cool J gets cut off saying good night on the Grammys. Hashtag that, LL.
02/10/2013 11:28 PM EST
"MCA Forever!"
This amalgam of rockers and hip-hop stars perform "No Sleep Till Brooklyn" to honor the late MCA. CBS, however, cuts them off with an rundown of the night's sponsors. Classy.
02/10/2013 11:26 PM EST
Ladies Love Cool James
02/10/2013 11:25 PM EST
LL Cool J, Chuck D, Tom Morello, Travis Barker & More
Closing the Grammys in style.
02/10/2013 11:24 PM EST
Tonight, They Are Young
More on fun. Fun!
02/10/2013 11:22 PM EST
"Still To Come, I Take The Stage"
LL Cool J now making Grammys threats.
BEFORE YOU GO