R&B singer Frank Ocean was among the favorites in the weeks leading up to this year's 55th Annual Grammy Awards broadcast, riding the wave of critical appreciation that has buoyed the 25-year-old since he released "channel ORANGE" in July.
Early in the show, Ocean won Grammys for Best Urban Contemporary Album and Best Rap/Sung Collaboration (for "No Church in the Wild," with Jay-Z and Kanye West). He was also nominated for Record of the Year and Best New Artist, tying with fun., Jay-Z, West, Mumford & Sons and Dan Auerbach of the Black Keys for the most nods of the year.
Ocean performed "Forrest Gump" during Sunday night's broadcast, appearing in front of an impressive video installation that recalled Kraftwerk's run at New York's Museum of Modern Art.
The singer's debut studio album was among the year's most-lauded projects, characterized by extremely personal musings on unrequited love ("Bad Religion") and vignettes of budding romance ("Thinkin' Bout You"), with a dash of sociological reflections on police brutality for good measure ("Crack Rock").
Ocean, a member of Los Angeles-based rap collective Odd Future, revealed that his first love was a man in a blog posted shortly before the release of his album. The admission sent waves throughout the R&B and hip-hop communities, which have long struggled with homophobia. In recent weeks, Ocean has both fought with and publicly forgiven singer Chris Brown. The two were in a scuffle outside a recording studio, during which Ocean says someone called him "faggot."
Prior to releasing "channel ORANGE," Ocean overcame an apathetic label (Def Jam) by recording and releasing "nostalgia, ULTRA," a stunning mixtape of covers and original productions. He's also an accomplished songwriter, having placed records with artists such as Beyonce, Justin Bieber and John Legend.
Ocean also performed during this year's Grammy broadcast, a gig he warmed up for by singing a few songs at a Friday event for Levi's denim.
The Grammys claim the 2012 award telecast brought in 39.9 million viewers -- the largest TV audience for the event since 1984. The Twitterverse was riled up to 160,341 tweets per minute during the broadcast.
Last year's Grammy winners included Kanye West and Adele, who took home a combined ten awards.
For more on the Grammys, click here. Find more Grammy award 2013 winners in the liveblog below.
PHOTO GALLERY
2013 Grammy Nominees
02/10/2013 11:44 PM EST
Good Night, Everyone!
The 55th annual Grammy Awards have come to a close. Dan Auerbach from The Black Keys was a big winner, but Frank Ocean, fun., Mumford & Sons, Kelly Clarkson and Kanye West & Jay-Z were all honored with Grammys.
From all of us here at HuffPost Entertainment, we hope you enjoyed the show. See you again on Feb. 24 for the 85th annual Academy Awards.
Here's Lena Dunham and Taylor Swift again, just because: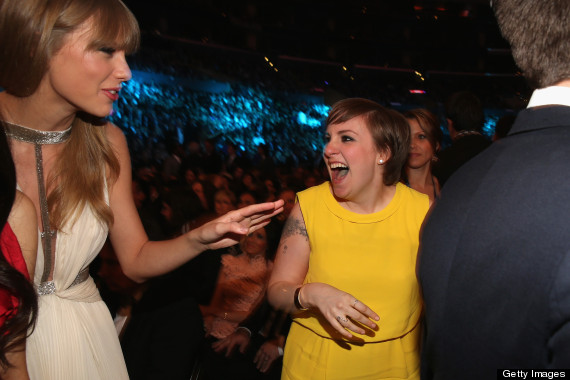 02/10/2013 11:34 PM EST
Good Notes
@ johannacox :

Not enough Beyonce and nowhere near enough Solange. #grammys
02/10/2013 11:33 PM EST
You've Got To Fight For Your Right To Delta
@ TVWithoutPity :

Wow, the closing #Grammys jam was bumrushed by sponsor shout-outs. Thought it was MCA forever, not commerce forever.
02/10/2013 11:30 PM EST
The Broadcast Is Over
LL Cool J gets cut off saying good night on the Grammys. Hashtag that, LL.
02/10/2013 11:28 PM EST
"MCA Forever!"
This amalgam of rockers and hip-hop stars perform "No Sleep Till Brooklyn" to honor the late MCA. CBS, however, cuts them off with an rundown of the night's sponsors. Classy.
02/10/2013 11:26 PM EST
Ladies Love Cool James
02/10/2013 11:25 PM EST
LL Cool J, Chuck D, Tom Morello, Travis Barker & More
Closing the Grammys in style.
02/10/2013 11:24 PM EST
Tonight, They Are Young
More on fun. Fun!
02/10/2013 11:22 PM EST
"Still To Come, I Take The Stage"
LL Cool J now making Grammys threats.
BEFORE YOU GO