Gotye's "Somebody That I Used to Know" won Record of the Year at the 2013 Grammy Awards, besting Taylor Swift's "We Are Never Ever Getting Back Together," fun.'s "We Are Young," Kelly Clarkson's "Stronger (What Doesn't Kill You)," The Black Keys' "Lonely Boy" and Frank Ocean's "Thinkin' Bout You."
The category celebrates the achievement of the artist as well as the producers, mixers and engineers who worked on the track, unlike Song of the Year, which awards only writers.
"Somebody That I Used to Know" overcame the fact that it was achieved popularity earlier than the likes of Swift's tune to capture the award. Though its Gotye's single hit to date, it's significant for breaking through the hip-hop and dance-dominated Top 40 charts in a major way (and, some way, opening the room for fun.'s nominated single).
Music's Biggest Night seemed to go over well. The Recording Academy -- the group behind the awards -- is comprised of working professionals in the industry, who vote on nominees and winners. While the interests and judgment of the Grammys has often been called into question, taking home a Grammy is still mainstream music's highest honor.
According to the Academy, last year's telecast brought in nearly 40 million viewers -- the largest Grammys TV audience since 1984. A strong 160,341 tweets per minute were also fired off during the show.
The list of 2012 Grammy winners included Kanye West and Adele. The two stars combined for ten awards.
For more on the Grammys, click here. Find more Grammy award 2013 winners in the liveblog below.
PHOTO GALLERY
Grammy Awards 2013
02/10/2013 11:44 PM EST
Good Night, Everyone!
The 55th annual Grammy Awards have come to a close. Dan Auerbach from The Black Keys was a big winner, but Frank Ocean, fun., Mumford & Sons, Kelly Clarkson and Kanye West & Jay-Z were all honored with Grammys.
From all of us here at HuffPost Entertainment, we hope you enjoyed the show. See you again on Feb. 24 for the 85th annual Academy Awards.
Here's Lena Dunham and Taylor Swift again, just because: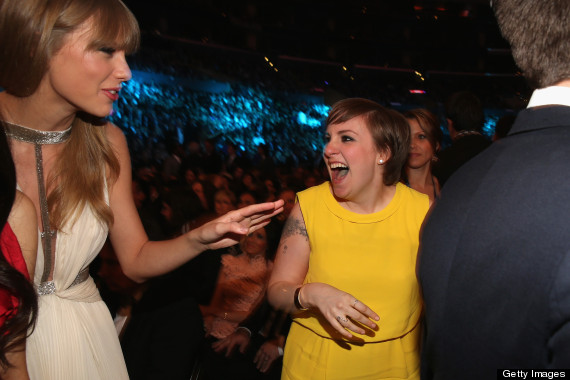 02/10/2013 11:34 PM EST
Good Notes
@ johannacox :

Not enough Beyonce and nowhere near enough Solange. #grammys
02/10/2013 11:33 PM EST
You've Got To Fight For Your Right To Delta
@ TVWithoutPity :

Wow, the closing #Grammys jam was bumrushed by sponsor shout-outs. Thought it was MCA forever, not commerce forever.
02/10/2013 11:30 PM EST
The Broadcast Is Over
LL Cool J gets cut off saying good night on the Grammys. Hashtag that, LL.
02/10/2013 11:28 PM EST
"MCA Forever!"
This amalgam of rockers and hip-hop stars perform "No Sleep Till Brooklyn" to honor the late MCA. CBS, however, cuts them off with an rundown of the night's sponsors. Classy.
02/10/2013 11:26 PM EST
Ladies Love Cool James
02/10/2013 11:25 PM EST
LL Cool J, Chuck D, Tom Morello, Travis Barker & More
Closing the Grammys in style.
02/10/2013 11:24 PM EST
Tonight, They Are Young
More on fun. Fun!
02/10/2013 11:22 PM EST
"Still To Come, I Take The Stage"
LL Cool J now making Grammys threats.
BEFORE YOU GO