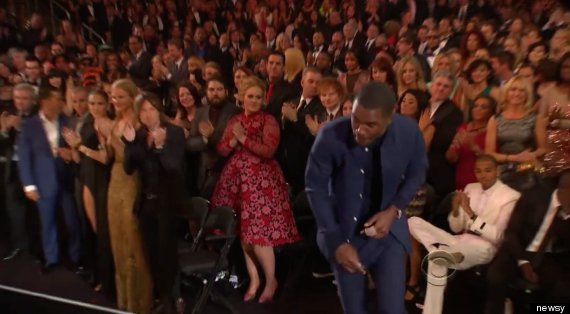 Anoche en los Premios Grammy, Chris Brown protagonizó otro momento vergonzoso y poco educado... Cuando Frank Ocean le ganó el premio a Mejor Album de Música Urbana Contemporánea por "channel ORANGE", todo el auditorio le dio una ovación de pie al cantante abiertamente gay... salvo, claro está, el otra vez novio de Rihanna.
Brown competía con Ocean y Miguel en esta categoría (y se corre el rumor de que cuando el nombre de Brown fue anunciado como nominado, nadie del público aplaudió, por lo que CBS debió añadir en efectos de sonido unos aplausos falsos, según The Hollywood Reporter).
Cuando el nombre de Ocean fue anunciado como ganador, Brown estaba visiblemente sorprendido, pero permaneció sentado mientras el resto de sus compañeros famosos lo ovacionaban.
Esto no debería ser una sorpresa, considerando que hace tan sólo un par de semanas, Brown y Ocean se pelearon en un estacionamiento de West Hollywood. Ocean dijo que Brown le golpeó y uno de los compañeros de Chris lo llamó un "marica".
Ocean también ganó otro Grammy por colaborar con Jay-Z, Kanye West y The-Dream en "No Church in the Wild". Sin embargo, Brown no se llevó ningún premio... pero sí estuvo feliz aplaudiéndole de pie a su novia, Rihanna.
PHOTO GALLERY
BEFORE YOU GO
Famosos gay
PHOTO GALLERY
Famosos gay
PHOTO GALLERY
BEFORE YOU GO
Chris Brown
PHOTO GALLERY
Chris Brown
Más de los Premios Grammy 2013:
PHOTO GALLERY
BEFORE YOU GO
Grammy Awards 2013: Alfombra roja
PHOTO GALLERY
Grammy Awards 2013: Alfombra roja
PHOTO GALLERY
BEFORE YOU GO
Grammy Awards 2013 el show
PHOTO GALLERY
Grammy Awards 2013 el show