Prior to today our mental image of ultimate Renaissance man Leonardo Da Vinci involved a big belly, even bigger beard and an intellectual Santa Claus vibe. But after seeing the poster art and trailer for Starz' upcoming series "Da Vinci's Demons," we're seeing the artist in an entirely new light.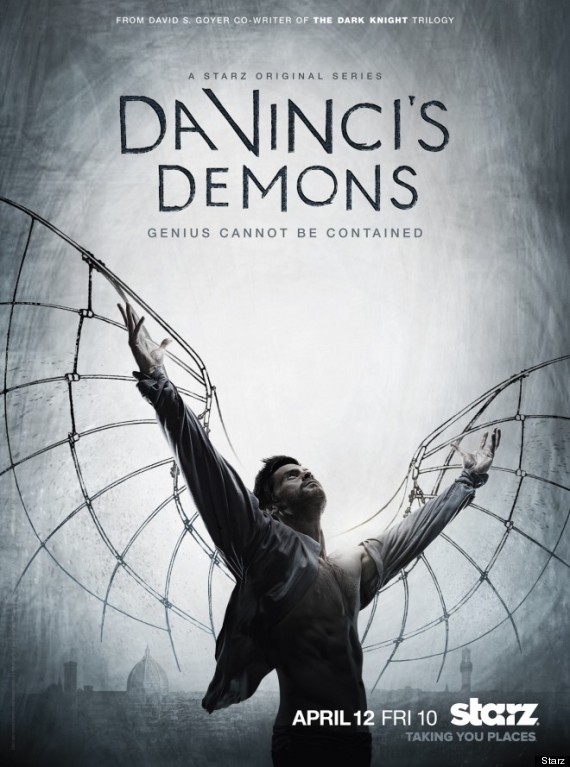 David S. Goyer, a screenwriter of "The Dark Knight Rises," is responsible for writing this new series, and we're guessing you can tell from the following premise. The show features a young and muscular Da Vinci taking some time off from his pensive art-making to manufacture weapons, jump from high precipices and woo Renaissance babes while Mission Impossible-esque tunes play in the background. (When he has the time to master chiaroscuro we cannot say.)
The action-packed series features Tom Riley, who Blouin Artinfo reports previously starred as a young Da Vinci alongside Carmen Electra in a porn satire.
The series description gives a tantalizing taste of the shape of things to come:
"The secret history of Leonardo Da Vinci's tantalizing life reveals a portrait of a young man tortured by a gift of superhuman genius. He is a heretic intent on exposing the lies of religion. An insurgent seeking to subvert an elitist society. A bastard son who yearns for legitimacy with his father."
See the trailer below to hear our favorite line: "Perhaps you've heard of me... I am AN ARTIST."
Is your DVR already set to record the premiere in April? Let us know your thoughts on Da Vinci's sexy secret history, and see some popular myths regarding the artist and inventor below.
PHOTO GALLERY
10 Myths About da Vinci
BEFORE YOU GO