Jodi Arias testified during her murder trail on Monday that she once caught Travis Alexander, the man she is accused of killing, masturbating to a photograph of a young boy in underpants.
"I walked in and Travis was on the bed masturbating and I got really embarrassed," Arias told jurors, answering questions by her lawyer. "He started grabbing at something on the bed and I realized they were papers ... one fell face up near my feet and it was a photograph -- a picture of a little boy."
Arias said the incident happened at Alexander's Mesa, Ariz., home in January 2008. The child in the photo, Arias testified, was a boy of 5 or 6 dressed in underwear.
"I did not know how to react … I ran. I got in my car and I started driving home," Arias said, adding that she felt nauseated and threw up.
Arias said she returned to Alexander's home that evening after he had asked to explain. She said Alexander told her he had a sexual interest in children, but preferred sex with women because it made him feel "more normal." After hearing the explanation, Arias said she and Alexander had sex.
"It's hard to describe," Arias testified. "It's very embarrassing. He seemed very ashamed with himself and he didn't want to be that way. It was something he struggled with. ... He was trying to deal with it and when he had sex with a woman, he felt like a normal heterosexual man and that's what he wanted to be. … It was preferable to his other deviant urges," Arias said.
Months later, in April 2008, Arias said she gave Alexander a pamphlet about mental health services and he got upset with her.
"It led to an argument," she said. "It started off verbal and then it became physical."
Arias, a 32-year-old photographer, is accused of shooting Alexander in the face, stabbing him 27 times and slitting his throat from ear to ear in the shower of his Mesa apartment on June 4, 2008. Arias has admitted the killing, but testified earlier in the trial that Alexander "attacked me and I defended myself." Prosecutors allege she was a jealous and vengeful ex.
In her four days on the witness stand so far, Arias -- prompted by questions from her lawyers -- has been trying to show jurors she was sexually exploited and intimidated by Alexander.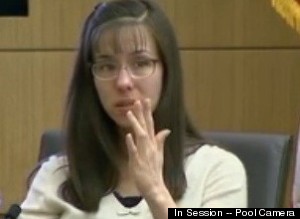 Arias showing the jury her injured finger.
Defense attorney Kirk Nurmi asked Arias to describe an assault at Alexander's house in October 2007. Arias said she argued with Alexander and he pushed her down and called her brother a homosexual slur. Arias said Alexander kicked her in the ribs once. She said she blocked a second kick with her hand. The blow broke the ring finger on her left hand, she said, and it never healed properly.
Nurmi then had Arias hold up her hand so the jury could see her still mangled finger.
Earlier Monday, Arias testified Alexander hired her to clean his home for $200 a month August 2007 -- during a time when they weren't dating. Alexander asked her to wear a French maid outfit and wanted sex while she was cleaning, she said.
"It didn't bother me," Arias testified. "We were still intimate. He was paying attention to me. He was being nice. He was focused on me, making me feel attractive. So, it wasn't unpleasant."
Arias' testimony will resume Tuesday at 12:30 p.m. ET.
If convicted, Arias faces the possibility of the death penalty.
BEFORE YOU GO
PHOTO GALLERY
Jodi Arias Timeline