The queen of pop is now becoming the queen of social media.
At long last, Madonna has joined the likes of countless other celebrities who have taken to Instagram to relay their latest adventures via filter-infused photos. Only time will tell exactly which filters the 54-year-old "MDNA" singer will favor, but based on the three photos she's uploaded over the past two days, we have high hopes for the direction her Instagram is headed.
Madonna first uploaded a photo of herself sipping from a martini glass, with the caption "Cheers motherfuckers! I'm on instagram" underneath. The picture has already garnered more than 13,000 likes. Another slightly racy shot homes in on her chest and features the caption "Addicted to sweat !!!!!" -- a reference to her new workout DVD. The third photo is of a costumed Madonna sporting a beanie cap, large sunglasses and an enormous fake mustache. "Im thinking of shaving my moustache!!!!!" the singer wrote. If we're being honest here, none of the photos are especially flattering -- and we love her all the more for it.
The Material Girl has racked up more than 62,000 followers and counting. That number doesn't place her near the most-followed Instagram accounts, but we expect the count is destined to trickle upward as she becomes more active. The most popular celebrity accounts, Kim Kardashian and Justin Bieber, have 6.8 million and 6.7 million followers, respectively. To crack the top 100, Madonna would need to accrue more followers than Cher Lloyd, who closes out the list with more than 931,000 followers.
Welcome aboard, Madonna! Keep the photos coming!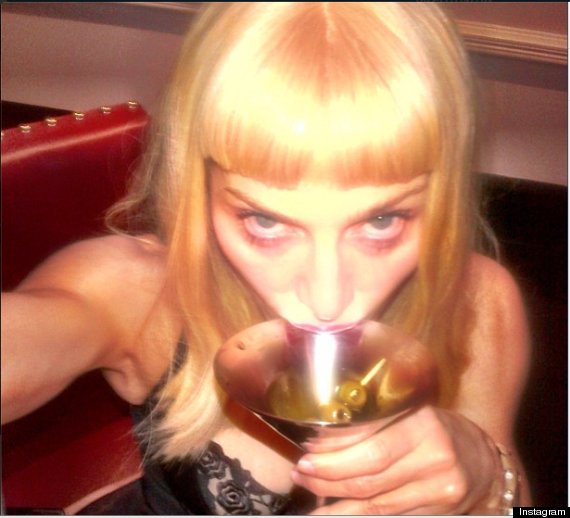 BEFORE YOU GO
PHOTO GALLERY
Celebrity News & Photos