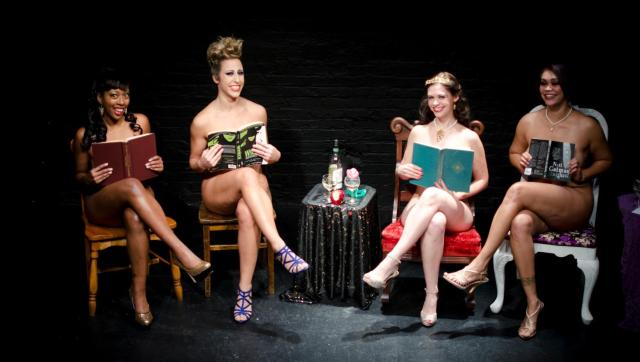 WASHINGTON -- Naked Girls will not be reading in D.C. on Valentine's Day. At least not in public.
DCist reports that the Feb. 14 Naked Girls Reading performance -- yes, it's women wearing no clothes, onstage reading books out loud -- scheduled to play at Little Miss Whiskey's Golden Dollar "was pulled because the District laws that govern the bar's liquor license can't tell the difference between performance artists and strippers":
That next show was set to happen on Thursday, Valentine's Day, with a vampiric "Love Bites" theme. But last Friday, with less than a week before the show, the management at Little Miss Whiskey's told the girls that the show would violate the bar's license and canceled the show. The spotlight that Washingtonian and other press shined on the January performance turned what might have been seen by Little Miss Whiskey's as a just-for-friends (and friends of friends) event into a very public event.

"It is with a heavy heart that I must announce we have canceled this month's show," Cherokee Rose, the producer of Naked Girls Reading D.C., wrote on the event's Facebook page. "There were unfortunately licensing issues that came up with the venue that have made it impossible for the show to go on as planned."

Little Miss Whiskey's July 2008 license agreement with the Alcohol Beverage Control Board states that the venue can only have live entertainment such as bands, karaoke, comedy shows, poetry readings, and disc jockeys.
Story continues below...
PHOTO GALLERY
Naked Girls Reading DC
Cherokee Rose, producer of Naked Girls Reading DC -- Naked Girls Reading began in Chicago in 2009, and now exists in some 18 cities -- told The Huffington Post that the Valentine's Day show has not been reappointed to another venue, "but we are looking foward to our next show on March 15."
The theme of the March 15 show will be urban legends, and "our goal is to return to the DCAC for that show," said Rose. "We will also be bidding farewell to one of our Naked Girls, Roma Mafia, as she is moving to San Francisco."
DCAC is the D.C. Arts Center, a theater and gallery in Adams Morgan.
As DCist explains, that venue can accommodate literature in the buff, while Little Miss Whiskey's cannot, because under D.C. law, Little Miss Whiskey's is considered a "tavern," while DCAC is a "legitimate theater."
Per the applicable regulations, taverns may not have nude performances, defined as "dancing or other entertainment by a person whose genitals, pubic region, or buttocks are less than completely and opaquely covered and, in the case of a female, whose breasts are less than completely and opaquely covered below a point immediately above the top of the areola."
Legitimate theaters, for their part, are not required to cover their performers so opaquely.
BEFORE YOU GO
PHOTO GALLERY
Weird News: Strange, But True