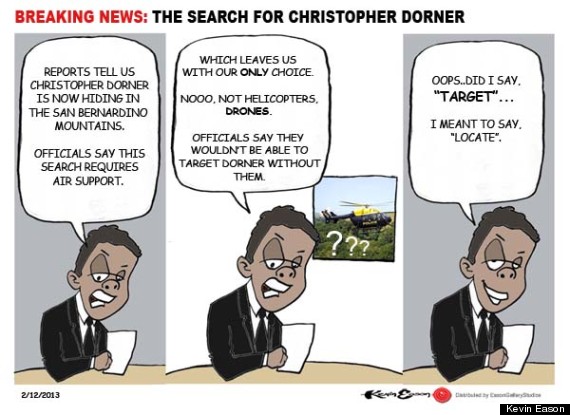 With three people dead, innocent people shot accidentally, and a long, meandering manifesto published, a new wrinkle has emerged in the search for Christopher Dorner: Drones.
As President Obama, Congress and a host of lawyers and constitutional scholars work their way through the ongoing debate around the usage of drones in killing American citizens abroad, reports began circulating this week that the controversial unmanned aircrafts would be used to attempt to locate Christopher Dorner.
On Monday, Dorner was charged with the murder of a Riverside policeman. He was also charged with attempted murder for firing at three others, wounding one.
While the LAPD, for tactical reasons, has yet to confirm whether they are actually using drones, the potential usage of the devices in a manhunt on U.S. soil provides a great opportunity to look at just how far we're willing to go as a country in the name of law and order.
Never one to shy away from these kind of controversial topics, Kevin Eason tackles the discussion head on with the above cartoon. Check it out and share with us your opinions on Dorner and drones.
About the artist:

Kevin Eason is a freelance editorial cartoonist and illustrator from New Jersey. His brand of satire covers news events in politics, entertainment, sports and much more. Kevin's work features include: Gannet, TVOne, Uptown, The Urban Daily, NAACP, Cengage Publishing, Bossip, WBLS_107.5FM, and various newspapers and magazines throughout the country. Follow him on Facebook.
BEFORE YOU GO
PHOTO GALLERY
The Political Satire Comedy Of Kevin Eason