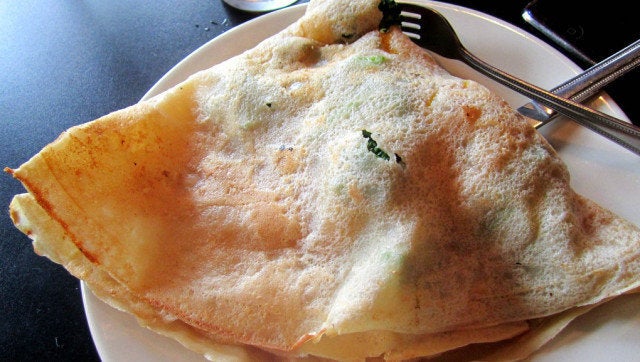 When you're in a bind for dinner, crepes make a great, easy option. Just because they're French doesn't mean that they're hard to make -- crepes are actually simpler to whip up than pancakes. And the best part is that crepes are a dinner and dessert in one because you can fill them with both savory and sweet ingredients. Pretty great, huh?
Here's how this easy and stress-free dinner option is done:
First, make the batter. For the batter, you only need a handful of ingredients which most people tend to keep on hand: flour, milk, eggs, butter and salt. That's it! In a blender (which makes this even easier) or a bowl, mix together 1-1/2 cups of milk, 3 Tbs melted and cooled butter, 1 cup of flour, 4 eggs and a pinch of salt. Blend or stir together until combined and small bubbles start to appear. The bubbles mean air is getting into the batter making sure your crepes will be light and fluffy.
Now, here's the kicker: almost all crepe recipes tell you to let the batter rest for 15 minutes. When in a rush for dinner, a 15-minute rest is not really an option. That's okay. I have never let my crepe batter rest and I'm always happy with the results. If you don't want to skip the resting period you can make the batter in the morning or the day before and have it waiting for you in the fridge.
Second, cook the crepes. This is the fun/intimidating part. The reason that it can be intimidating is because the first crepe is almost always a disaster. This stresses some home cooks out. Don't let it! It just happens -- to everyone. Accept that the first crepe will most likely be a failure, throw it aside, and move on. This is how you do it. Heat a nonstick pan (it's VERY IMPORTANT that it's nonstick) on medium heat, butter it, and add about 1/3 cup of crepe batter to the pan. Once the center starts to set, it's time to flip. Don't be scared, they're stronger than you think. Just use a spatula and your hands to gently turn over the crepe.
Third, fill your crepe. There are a number of options here. You can first cook your batch of crepes and fill them later with leftovers, cold cuts, cheese, jellies and whatever else you can imagine. Or, you can add toppings to your crepe as it finishes cooking in the pan. This is nice because it heats up ingredients (and melts cheese!). You can also fill your crepe and heat it up in the oven -- but this option takes more time and we don't have a lot of that. Lastly, either roll up your crepe like a wrap or fold them in fours for a more traditional French look.
Fourth, you're done. Crepes are so easy to make for dinner, they only take three steps!
Check out these other quick dinner ideas.
PHOTO GALLERY
French Family Cooking
BEFORE YOU GO