Is this a match made in Hollywood heaven?
Steaming hot It-girl Jennifer Lawrence was seen majorly flirting with well-endowed actor Michael Fassbender at the BAFTA awards in London last weekend, reports Radar Online.
SCROLL FOR PHOTO
"Michael and Jennifer were locked in conversation for a long time, he was charming the pants off her," an eyewitness at the party told Radar. "And even when she was talking to other people at the after party, Jennifer couldn't keep her eyes off Michael."
The 35-year-old star of "Shame" and the 22-year-old "Silver Linings Playbook" Oscar contender first met while filming "X-Men: First Class," which is coincidently where Lawrence met her ex-boyfriend Nicholas Hoult, whom she dated for two years. But now that Jen is single and clearly ready to mingle, she's lucky to be filming the X-Men sequel, "X-Men: Days of Future Past," with Fassbender.
"When Jennifer wraps up 'The Hunger Games: Catching Fire' she said to Michael she would love to do dinner with him," reports Radar.
But before we sew J.L.+M.F. 4EVA on our undies, party poopers sources tell Yahoo omg! that the two stars are just friends. "Their conversation looked friendly, not flirty," reports Yahoo. "They have been friends for a while, there is nothing more to it than that."
To further cool us off, Yahoo brings up the very solid point of The Girl Code, by which Jen's good friend Zoe Kravitz dated Fassbender after they all shot X-Men together, and Jen wouldn't betray a friend.
Now that's a crying shame.
PHOTO: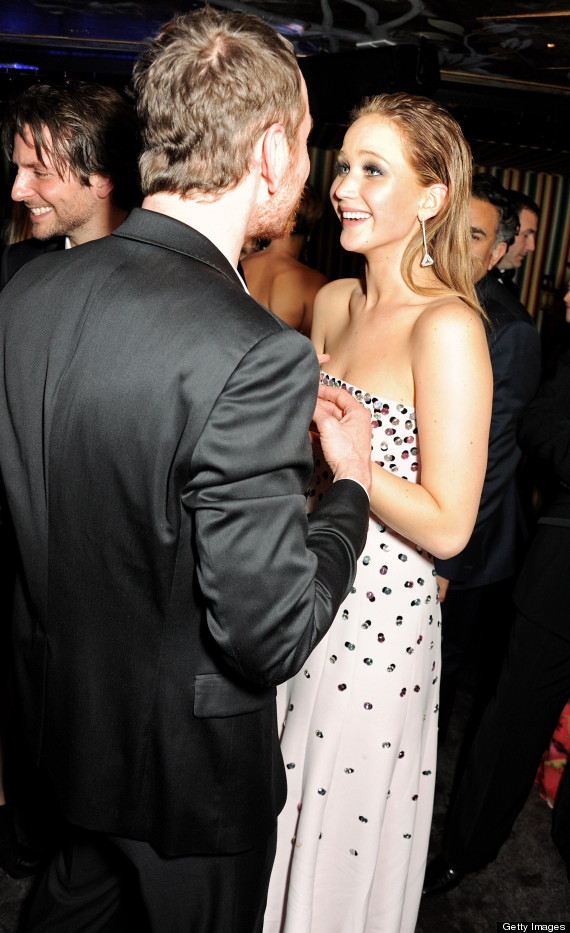 And also, this photo of Jen Lawrence holding a Teddy bear and sucking her thumb.
BEFORE YOU GO
PHOTO GALLERY
Celebrity Couples