On Sunday, A Voce chef Missy Robbins won this year's Cochon 555 competition in New York. That's not so surprising: Robbins' refined yet earthy Italian cooking has already garnered praise from the Michelin Red Guide and President Obama alike. (Though she now disavows the latter. When I met her at the New York Wine & Food Festival earlier this fall, on the eve of one of Obama's second presidential debate, I asked her what she'd cook to give him courage, and she got very angry at me. "The Obama thing is so played-out," she said.)
What is surprising, though, is who she beat out to win the day and the "Princess of Porc" title. Take a gander at this photo of the competing chefs, standing with Cochon 555 organizer Brady Lowe: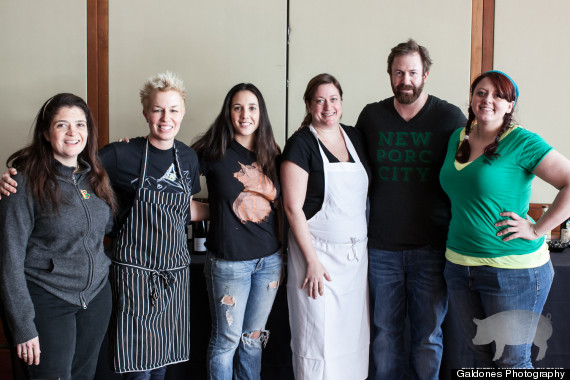 Notice anything out of the ordinary? All the chefs in that photo are women. From left to right, you have Alex Guarnaschelli of Butter, Elizabeth Falkner of Krescnedo, Leah Cohen of Pig & Khao, and Robbins, Lowe and Shanna Pacifico of Back Forty West. Not in this photo, but also competing, was Sue Torres of Suenos.
Don't get me wrong; it's no longer as surprising as it once was to see a female chef do well. But in its brief five-year history, Cochon 555 has become known as a particularly meat-heavy, macho competition. All but one of the chefs who cooked at last year's New York event were male.
So this year's estrogen-heavy lineup is novel -- and intentionally so. Asked, via email, about the all-female lineup, Lowe said. "I wanted to kick off the fifth year with something that has never been done before in COCHON history."
But why now? Maybe it has something to do with the blockbuster success of Blood, Bones and Butter. The 2011 memoir by Prune chef Gabrielle Hamilton showed, as well as anything, that female chefs don't have to follow the gentle, pastry-focused model of people like Rachael Ray, Nigella Lawson and Ina Garten to get attention and respect. Girls like pork, too.
That said, the New York slate isn't necessarily a harbinger of things to come. Lowe said that the rest of this year's 10-city tour of Cochon 555 would feature chefs of both sexes.
BEFORE YOU GO
PHOTO GALLERY
Food & Wine's Best New Chefs of 2012